by Libby James
North Forty News
It only took a single leap from a plane into the nothingness of the sky for Marine Sergeant Mike Bohn to fall in love with skydiving in 2002. He was serving in Guam at the time and during his first jump, he was tethered to an instructor, but the thrill he experienced was enduring. When asked why he loves the sport so much, he is close to a loss for words. "It is the gift I was given," he says.
Today, Bohn is the owner and operator of Orange Skies Free Fall Center, which opened in March 2018 at Yankee Airfield at 4625 E. County Road 54, north and east of Fort Collins and south of Wellington. Established in 1973 by Buzz Tapley, the field has seen much activity over the years but lately had fallen into disrepair. Bohn renovated the hangar and 2,700-foot runway and takes obvious pride in his establishment.
From the time of his first jump 16 years ago, owning a skydiving center has been at the back of his mind. But the road to making it happen was long and circuitous. He emerged from military service in Japan and the Middle East with experience as an aircraft mechanic. Then followed jobs in aircraft maintenance, as a manager for a valet parking firm and then for a large flooring company. In 2009, he became a certified skydive instructor and began to work as an accelerated free fall instructor.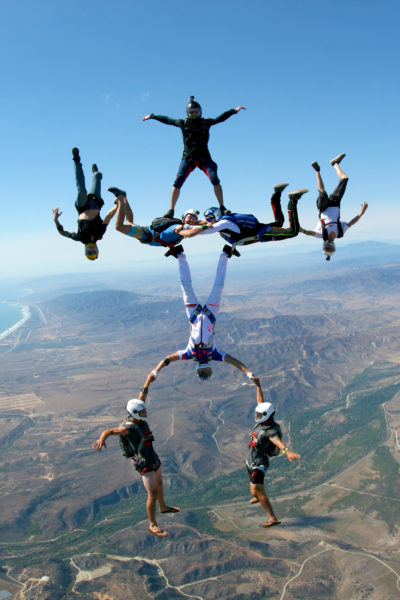 In 2012, he entered a competition orchestrating a fall of 138 people upside down in the air. The maneuver succeeded, but because of technicalities, his team did not make the final cut, a fact that spurred him on to further competition. In 2013, his Team Flo became undefeated free fall champions in the U.S. and second in the world during a competition in Germany. This October, the U.S. Parachute Team, of which Bohn is a member, will compete on the Gold Coast in Australia.
Back in Colorado, his home state, Bohn began intensive research to find an airport he could use to establish a skydiving center. Yankee Field seemed a perfect fit. It was in the middle of flat agricultural country, on the Front Range and not far from population centers. He was able to obtain a 20-year lease on 38 wide-open acres for a drop zone which includes a 2,700-foot runway. He leases a plane especially designed for skydiving, which he says is close to noiseless. He chose the name for his company because of his love of sunsets.
Orange Skies is open for business Thursdays through Sundays. Each instructor has at least 1,500 hours of free fall experience. Patrons can fall solo or be tethered to an instructor, a good choice for a novice. For many, a free fall is a lifetime "bucket list" experience. Bohn has had customers from all over the world. There is also a cadre of "regulars" who arrive every weekend, many with their own parachutes. They may do as many as four or five jumps in a day and then stay at the airport to socialize and enjoy a barbecue.
Wellington resident Shea Curtis, who met Bohn through the sport and is an avid skydiver herself, manages office details for Bohn. Now a father of two young children, Bohn has homes in both Wellington and Arvada, where his wife, Alyssa Manny, owns a yoga studio.
Bohn has developed friendships among the people who farm near the airport. They have welcomed his business and understand the economic impact it is likely to have as it grows. Others in a nearby residential area have concerns about noise and the encroachment of a business in the rural area. "Change is difficult," Bohn acknowledges. "It scares people. I think the biggest problem is the lack of education. I have only a single plane and it is designed to be low noise."
Orange Skies is committed to being an involved member of the Northern Colorado community. Bohn has welcomed the Colorado State University Skydiving Club to the free fall center and looks forward to more interaction with them in the future.
Reach Orange Skies at www.skydiveorangeskies.com.
Did you like what you just read?
Show your support for Local Journalism by helping us do more of it. It's a kind and simple gesture that will help us continue to bring stories like this to you.
Click to Donate