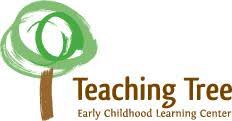 Anne Lance
Fort Collins, CO — Teaching Tree Early Childhood Learning Center announced that it has received a $200,000 grant from an anonymous donor. The grant will support the expansion of Teaching Tree's child care center in Fort Collins
Teaching Tree has been providing affordable, quality early childhood care and education for low and middle-income families in Larimer County since 1970. The program maintains a Level 4 Colorado Shines rating, making it one of the highest quality providers in the state.
"This challenge grant from an anonymous donor takes us nearly halfway to meeting our fundraising goal for the capital expansion project, which is estimated to cost about $2 million," said Anne Lance, executive director of Teaching Tree. "We're excited that we'll soon be able to increase our licensed capacity from 101 to 215 children."
According to a white paper, "A Workforce Strategy and Major Economic Driver: Child Care in Larimer County," published in Nov. 2017, Larimer County's licensed child care shortage is impeding employers' ability to recruit and retain quality employees. The shortage is most acute for infant care: Only 1,117 licensed child care slots are available, yet more than 4,400 families are in need of infant care.
"We've had more than 300 children on our waitlist for the last several years," said Lance. "That's the highest number we've ever seen in our organization's 49-year history."
In addition to adding 6 new classrooms for children from 6 weeks to 5 years old, the expansion will also include 2 natural playgrounds, or outdoor learning environments, that will stimulate children's curiosity, exploration, and increased physical activity.
"Situated so close to the Poudre River and Poudre River Trail, Teaching Tree has an ideal setting for creating natural playgrounds, which, the research shows, are so effective at engaging children in learning and play," said Lance. "We're excited that we'll be able to offer our kiddos both conventional and natural playgrounds for their learning, play, and physical activity."
Teaching Tree received matching funds of $200,000 from an anonymous donor after meeting the challenge of raising $75,000 in donations from individuals and businesses and $125,000 in new foundation grants. The challenge grant will expire at the end of 2019.
For more information about Teaching Tree or the child care expansion project, call (970) 493-2628 or visit www.teaching-tree.org.
Did you like what you just read?
Show your support for Local Journalism by helping us do more of it. It's a kind and simple gesture that will help us continue to bring stories like this to you.
Click to Donate