Katie-Leigh Corder
UNC Professor of Music Education and Associate Director of Bands, Richard Mayne, will serve as the co-host at the 2019 American Bandmasters Association (ABA) National Convention March 6-9, 2019, at the Embassy Suites Conference Center in Loveland with the Director of Bands at Colorado State University, Rebecca Phillips.
The ABA is a prestigious association that represents American bands to the world. Those invited to membership follow an intensive selection process.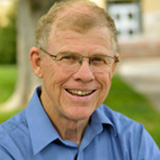 UNC Professor of Music Kenneth Singleton (image at right) and Mayne are both members of the organization. It is very rare for a university to have two faculty who are invited members in the ABA, according to ABA President and UNC Alumnus Lowell Graham.
The theme for the 2019 convention is "Colorado – A Dream Come True!" as this is the first time Colorado will host the prestigious event since the inception of the ABA in 1930. The UNC Wind Ensemble will make its first-ever performance at the event. Bands from CSU, Kansas State University and the University of Texas at El Paso will also make their first appearances, and the final concert will feature the U.S. Air Force band from Washington, D.C.
Below are the concerts, which are free and open to the public:
Wednesday March 6, 2019:
7:30 p.m.: Kansas State University Wind Ensemble (Front Range Ballroom), Frank Tracz, Conductor
8:40 p.m.: Colorado State University Wind Symphony, Rebecca Phillips, Conductor
Thursday March 7, 2019:
7:30 p.m.: University of Texas-El Paso Wind Symphony (Front Range Ballroom), Bradley Genevro, Conductor
8:40 p.m.: University of Northern Colorado Wind Ensemble, Kenneth Singleton, Conductor
Friday March 8, 2019:
7:30 p.m.: United States Air Force Band (Front Range Ballroom), Col. Don Schofield, USAF, Conductor
Did you like what you just read?
Show your support for Local Journalism by helping us do more of it. It's a kind and simple gesture that will help us continue to bring stories like this to you.
Click to Donate