Get Tips at our Open House to Paint a Transformer Cabinet Mural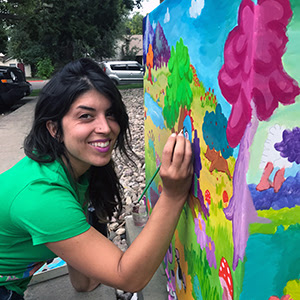 The City of Fort Collins Art in Public Places Program is seeking local artists/teams and non-profit organizations to work with the Transformer Cabinet Mural Project Team to develop and paint murals on electrical transformer cabinets around Fort Collins. Once selected, transformer cabinet sites will be assigned to artists/teams, with one or more cabinets per site for painting. The murals are intended to help mitigate graffiti, as well as add art to the community. Artist eldowho is shown left.
Eligibility is open to Artists/teams and non-profit organizations that reside or have a current studio space within the Growth Management Area of Fort Collins. The budget for this project starts at $1,250 per artist/team, with payment dependent upon the size of the cabinet mural. Non-profit organizations selected for this project will receive an honorarium of $450 per site to cover expenses.
Deadline for submissions is April 9.
Join us for an Informational Open House:
Wednesday, March 28, 5-7 pm
Art in Public Places Staff will be on hand to answer questions about your submission or the process in general. There will be a brief presentation at 6:00pm to review the Request for Qualifications and the process of submitting to be considered for this project.
Workshop with Ignite Juror Melanie Yazzie: Gelli Plate Printmaking
The Lincoln Center Art Gallery is participating in Colorado's Month of Printmaking, March 8-April 21,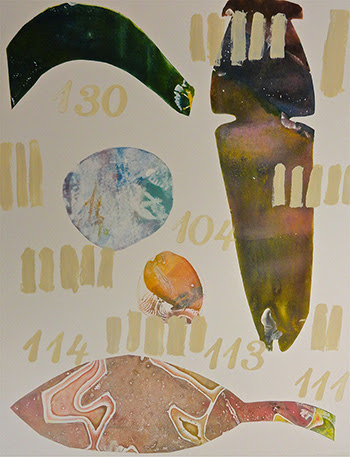 2018. Visit lctix.com/exhibitions for more information. This exhibit is part of Mo'Print the Month of Printmaking featuring printmaking focused gallery and museum exhibits across the state. For more information about Mo'Print, please visit www.moprint.org.
We are hosting a special workshop in connection with the exhibit Saturday, March 24, 10am–1pm, at the Carnegie Center for Creativity, 200 Matthews St. The cost is $70. The workshop is open to ages 18+ and no prior experience needed. Register at lctix.com/opportunities.
The workshop is an introduction to a new and unique method for making prints. An example of one of Ms. Yazzie's prints is shown right. The focus will be on making simple stencils and abstract work that will allow you time to discover how you can use this method to make your own prints without a printing press in your own home! You will learn the basics of working with Gelli Plates and make a small series of monotypes in this workshop. All Materials will be provided for the participants,
About Ms. Yazzie:
As a printmaker, painter, and sculptor, Melanie Yazzie's work draws upon her rich Diné (Navajo) cultural heritage. Her work follows the Diné dictum "walk in beauty" literally, creating beauty and harmony. As an artist, she works to serve as an agent of change by encouraging others to learn about social, cultural, and political phenomena shaping the contemporary lives of Native peoples in the United States and beyond. Her work incorporates both personal experiences as well as the events and symbols from Diné culture. Her early work focused on depictions of the harsh realities of Native peoples (i.e., racism, identity conflict, poverty, abuse, etc.) to bring to Native issues to the forefront, but more recently she is making work with a positive twist.
Ms. Yazzie has exhibited widely, both in the United States and abroad. Her work is in the Phippen Art Museum, The Australian National Gallery and the Museum of Art, Rhode Island School of Design, Print Collection, Providence. Ms. Yazzie is a professor of printmaking and area coordinator in the Department of Art and Art History at University of Colorado, Boulder. She considers the global impact of her work, striving to create safe, non-toxic methods of printmaking where toxic chemicals are commonly used.
Did you like what you just read?
Show your support for Local Journalism by helping us do more of it. It's a kind and simple gesture that will help us continue to bring stories like this to you.
Click to Donate