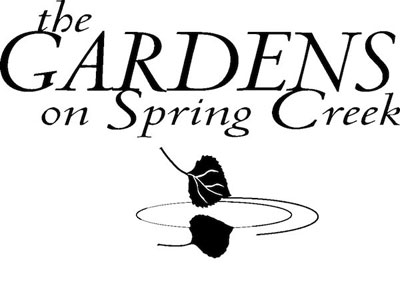 Local welders design and create newest addition to the botanical light show
FORT COLLINS –The Hollyhocks, a trio of upright flowering stalks sparkling in pink and green LED lights and standing nearly ten feet, highlight this year's Garden of Lights at the Gardens on Spring Creek, 2145 Centre Avenue. The month-long evening event creates glittering lighting scenes that celebrate the magic of our community's botanical garden and the holiday season.
Created by local artists Josh Jones & Antonio Vazquez of Gallegos Sanitation, the custom-welded trio of Hollyhocks will glow at The Gardens through January 7. The sculpture stands nearly ten feet tall at its highest point and was made from 100% recycled steel, consisting of scrap sheet metal used to create the petals and leaves, and the "stakes" of the flower are made from old GSI polycart trash can axles. Volunteers at the Gardens meticulously threaded LED lights throughout the sculpture to give it sparkle.
"I am honored and humbled to be asked for a fourth year in a row to create the annual flower sculpture (for Garden of Lights). I appreciate that Gallegos Sanitation encourages me to utilize my creativity while at work to produce recycled-art that benefits our community's enjoyment of the holiday season," said Jones.
The Hollyhocks join the Gardens' other sculptural flowers created by Jones since 2014: the Daffodils, Coneflowers, and Columbines.  For more information about Garden of Lights, please visitwww.fcgov.com/gardens or call the Gardens at 970-416-2486.
About the artists, Josh Jones and Antonio Vazquez
Artist Josh Jones was raised in Loveland and is a graduate of Thompson School District and Colorado State University. His work includes sculptures for local non-profits such as Thompson School District, Loveland Sculpture Invitational, Sustainable Living Fair, and Weld RE-4 School District, in addition to the Gardens on Spring Creek. He has been employed by Gallegos Sanitation for over seven years. Co-creator Antonia Vazquez has been with Gallegos Sanitation for 14 years as a welder/fabricator. Although he holds a degree in Accounting from Centro de Bachillerato Technologico Industrial y Servicos in Mexico, he has always been passionate about welding. Antonio can creatively weld any design that is set out before him.
Did you like what you just read?
Show your support for Local Journalism by helping us do more of it. It's a kind and simple gesture that will help us continue to bring stories like this to you.
Click to Donate