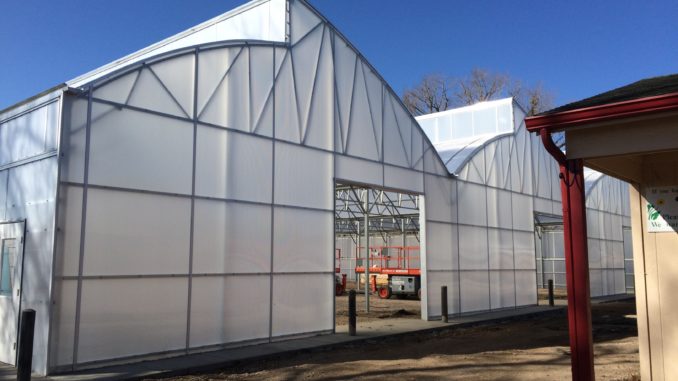 Theresa Rose
Ah, Spring is springing, the birds are singing, rototillers are tilling and gardeners eagerly flock to local greenhouses to plan their visions for the season.
Gardeners in LaPorte, however, observe with one eyebrow up while the Plantorium Greenhouse adds two 12,000 square feet greenhouses to the west side of the nursery. They can only watch and wonder, could it be? Are owners Jim and Cindy Roberts jumping on the bandwagon and starting a growing operation?
Growing yes, but not what everyone thinks. Owner Jim Roberts puts the rumors to rest once and for all. "There is no cannabis at the Plantorium and never will be!" he says. And that's that.
Long-time clients in the mountain resorts of Steamboat, Breckenridge, Frasier, Vail and Beaver Creek have increased their orders of hanging baskets and planters to an extent requiring the building of the greenhouses complete with up to the moment improvements and innovations. Steamboat alone has 822 twenty-four inch planters to fill. In addition, the local demand for hanging baskets and planters has also increased. The greenhouses will also house more of the flowers and plants the Plantorium has always grown.
Technological advances will improve the service and health of the plants. One is a cooling system designed to utilize natural airflow and replace the need for fans. The new system saves on power and is healthier for the plants as they acclimate to the climate of Colorado. Another innovation is an automated conveyor system to facilitate the moving and loading of the heavy baskets.
The Nursery inventory is expanding also. Maryanne Wood, Nursery Supervisor, will be carrying more fruit trees such as pear, apples, cherries, apricots and peaches. There will also be more varieties of roses and shrubs.
The Plantorium has been in business since 1968. This is a family business, with Jim and Cindy's two daughters and a son-in-law managing much of the operations. Cindy Roberts proudly boasts that her grandkids are the fifth generation of Roberts at the Cache La Poudre Schools. Jim Roberts' grandfather built the trophy cases at Cache La Poudre Middle School. Such a family, entrenched in tradition and time-honored values have no interest in changing their ways. There will be no pot growing at the Plantorium.
Did you like what you just read?
Show your support for Local Journalism by helping us do more of it. It's a kind and simple gesture that will help us continue to bring stories like this to you.
Click to Donate