The words Catholic School may bring to mind visions of stern nuns in long black habits with rulers in their hands. St. Joseph Catholic School on 127 N. Howes St. may seem like a place out of another time, but appearances can deceive. Built in 1926, the exterior reflects the old Spanish style of the time. The children on the playground wear plaid uniforms. Catholicism, one of the old religions, can also appear to be an antique in itself with equally antique rules. But St. Joseph's proves to be a harmonious combination of the old and the new, pairing traditional Catholic values with modern technology, low teacher-student ratios and up-to-date equipment. From pre-school to eighth grade, these children actually like to come to school!
Nick Blanco, the new principal at St. Joseph's, wasn't even a Catholic when he first came to work as a social studies teacher. Raised as a Pentecostal Charismatic, his mother was a pastor at Resurrection Fellowship who led Bible studies and prayer groups and would receive calls from members in crisis so she could pray for them. While he says he was "raised in that church," when he turned 18, he decided he was done with religion. Feeling as though he'd been forced into the church as a child, he decided he was done with "everything" and joined the U.S. Marines. Still, though he tried to deny it, something felt empty in his life.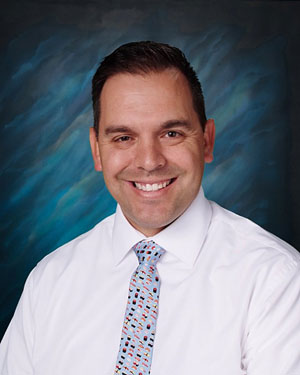 A graduate of Colorado State University with a history degree, he was teaching geography and social studies at the high school in Johnstown when he and his wife had their son. His wife was a DA working in downtown Fort Collins and would often have lunch with a friend who had two girls enrolled in St. Joseph's. When their son was ready for school, they were impressed with the quality of education, technology and the student-teacher ratio and enrolled their son. Students don't have to be Catholic to attend St. Joseph's. Nick began to realize how much he liked the traditions observed at the school. He also liked the teaching style, where the kids were engaged in the learning process and not "taught at," as he put it. Religious values are applied to the real life concerns and challenges the children face as they grow up.
The little boy decided on his own to become a Catholic in the second grade. Nick was skeptical, but the staff was patient and not confrontational when Nick expressed his concerns. Because of his son, he began to see a means of filling the empty space in his life and enrolled in a series of classes. The Rite of Christian Initiation (RCIA) classes were classes in the Catholic faith. There was no attitude of "Catholics are better and here's why," as the staff introduced the faith in a loving and non-judgmental way. When the school had an opening for a teacher, he spoke to the principal and got hired.
Catholic traditions are observed at the school the same as at the church. At Easter, the fourth-graders re-enact the Stations of the Cross. For All Saint's Day, the students dress up as saints for a procession in the church. Wednesday adoration is a period of quiet time in the church and a Seder meal is served every Thursday. Modern innovations include up-to-the-minute computers and the low number of students (176 from K through 8) means that no one has to wait to get their homework done. Otterbox has made a donation of both a Lego wall for the preschoolers and a 3-D printer.
A newer program is the Priest in the Classroom, where priests and deacons become acquainted with the students to get their perspectives. Also, there are many service projects such as Operation Soup Bowl, a fundraiser through which the students choose a charity, plan the event, set the tables, serve the soups (usually made by the mothers) and clean up when the event is over.
Eighth-graders set to graduate participate in a retreat in which they discuss their concerns for the future and the challenges they face as they adjust to a conventional school. They hold a "Chastity Rally" in which morality is defined as dignity for life in general and respect for the self. The school has a Virtue Award program through which students learn different virtues such as mercy, generosity and honesty. Students who demonstrate these virtues are recognized in the same way as when they excel in academics or sports.
Classrooms are colorful and inviting and the school radiates good cheer. The somber expectations of times gone by have no place at St Joseph's. For those desiring to enroll their children but are concerned about the cost, a program called Seeds of Hope helps with income-based tuition and reduced-price lunches.
For information about the school, cost and enrollment visit the website at: gosaintjoseph.org/
Did you like what you just read?
Show your support for Local Journalism by helping us do more of it. It's a kind and simple gesture that will help us continue to bring stories like this to you.
Click to Donate