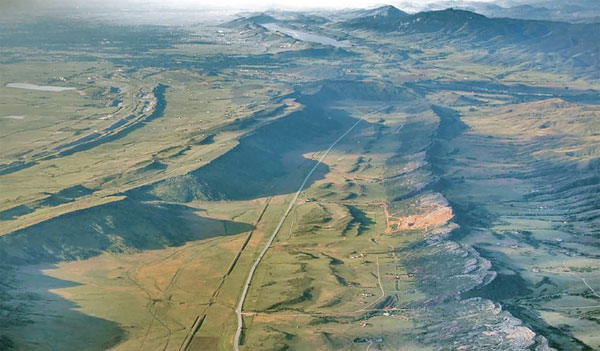 Zoë Shark, City of Fort Collins Natural Areas Department, Community Relations Manager
For well over a decade, the City of Fort Collins has participated in the permit review process for the Northern Integrated Supply Project (NISP).  Later this month, the U.S. Army Corps of Engineers will release a Final Environmental Impact Statement (FEIS) for the project.  The FEIS is likely the last time that federal agencies will collect public input on NISP before deciding whether to issue a permit to allow construction.  Fort Collins plans to evaluate and submit comments on the FEIS.  The comments will examine NISP's impacts on river health and City assets and explore ways to lessen NISP's impacts through mitigation and long-term river management.
NISP is a water development and storage project proposed by the Northern Colorado Water Conservancy District on behalf of 15 municipalities and water providers, located mainly south and east of Fort Collins. The Fort Collins-Loveland Water District, which serves water to the southern portion of the City of Fort Collins, is one of the participants. NISP proposes to construct two new reservoirs, and will draw water from the Cache la Poudre River. One of the proposed reservoirs, Glade, will be located north of Fort Collins near Ted's Place, and will be slightly larger than Horsetooth Reservoir.
NISP will reduce flows in the Poudre River, and may therefore affect the health of the river and the City's assets linked to the river.  Key issues for the City include NISP's impacts to stormwater, drinking water, wastewater, river ecology, and recreation.
NISP requires a variety of permits and approvals from federal, state, and local entities. Throughout the permitting process Fort Collins has provided extensive comments three times (2008, 2015, and 2017). While the City of Fort Collins has no approval authority over NISP's federal and state permits, providing comments based on sound science and the potential impacts to the City's assets may positively influence the outcomes of NISP.
Comments may be provided directly to the Army Corps, here: http://www.nwo.usace.army.mil/Missions/Regulatory-Program/Colorado/EIS-NISP/. 
You may also learn about the City's response and provide input, here: https://www.fcgov.com/nispreview/.
Did you like what you just read?
Show your support for Local Journalism by helping us do more of it. It's a kind and simple gesture that will help us continue to bring stories like this to you.
Click to Donate