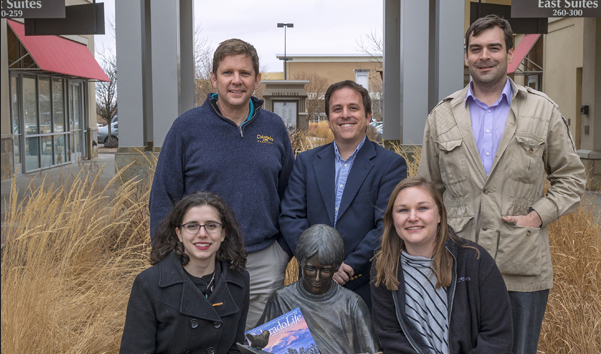 By Matt Masich
FORT COLLINS, Colo., February 15, 2018 – Colorado Life Magazine is one of the latest businesses to relocate to a booming Fort Collins. The award-winning statewide publication moved its home office last month from Estes Park to the Front Range Village shopping center on Harmony Road.
Support Northern Colorado Journalism
Show your support for North Forty News by helping us produce more content. It's a kind and simple gesture that will help us continue to bring more content to you.
BONUS - Donors get a link in their receipt to sign up for our once-per-week instant text messaging alert. Get your e-copy of North Forty News the moment it is released!
Click to Donate
"We were really attracted to the energy of Fort Collins," Colorado Life Publisher Chris Amundson said. "Whether you're talking about the economy or the cultural scene, Fort Collins and Northern Colorado in general are just thriving."
Amundson and his wife, Angela, founded Colorado Life in Estes Park in 2012. Although they love the town at the entrance to Rocky Mountain National Park, the opportunity to establish an office in Fort Collins was too good to pass up, Amundson said. Fort Collins' large, highly educated labor pool was a factor in the move, he said, as was the city's proximity to highways and airports – Colorado Life's staff members log thousands of miles on the road covering stories across the state, and Amundson is a licensed pilot.
Colorado Life's writers and photographers had already spent a lot of time in Fort Collins before the relocation. The magazine has published articles on Old Town Fort Collins' role as the inspiration for Disneyland's Main Street USA, Old Town's "ghost signs," Colorado State University's Flower Trial Garden and more. The move is also a homecoming, of sorts, for Colorado Life Photo Editor Josh Hardin, a CSU alumnus and former editor of The Rocky Mountain Collegian.
"Fort Collins is a source of great memories for me, but I'm just as excited to see what the future holds," Hardin said.
Colorado Life, Colorado's only statewide general-interest magazine, publishes stories on travel, history, adventure, recipes and other topics celebrating Colorado's unique people and places. The glossy bimonthly is known for featuring stunning photography by the state's most talented photographers, as well as its commitment to telling stories from parts of Colorado that many publications overlook.
Colorado Life is available by subscription for $21 for one year and $38 for two years. It is also available statewide on newsstands. To subscribe, call (970) 480-0148 or visit ColoradoLifeMagazine.com. To suggest story ideas, email editor@coloradolifemagazine.com.