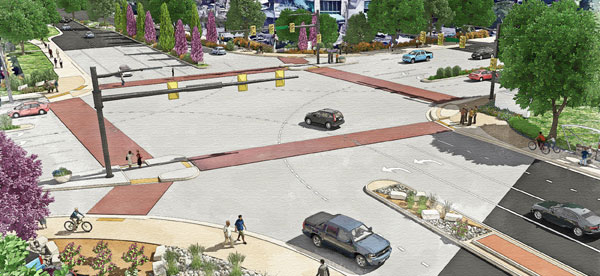 AMY RESSEGUIE
Sr. Communications Coordinator, Communications & Public Involvement Office
The first phase of full road closures for the Horsetooth and College intersection improvement project is scheduled to begin next week.
June 18-July 16, East Horsetooth Road will be closed in both directions between College Avenue and Mitchell Drive. Recommended detour routes are Drake Road and Harmony Road via Shields Street and Lemay Avenue.
No left turns will be permitted in any direction during the closure. College Avenue will be reduced to two lanes in each direction and West Horsetooth Road will be reduced to a single lane in each direction approaching College Avenue.
All businesses are open during construction and business access will be maintained at all times. During the closure Mitchell Drive businesses can be accessed via Bockman Drive. Eastbound vehicles can take College Avenue south to Bockman; westbound vehicles should take JFK Parkway south to Bockman.
After this phase concludes, work will shift to the west side of the intersection, with West Horsetooth Road scheduled to be closed July 16-Sept. 9.
Horsetooth & College Intersection Improvements
The Horsetooth and College intersection is one of the busiest in Fort Collins and is a top-ranked location for safety and operational improvements. Currently the intersection experiences heavy congestion during peak traffic times and a high number of left-turn crashes.
The intersection improvements will continue through 2018, and will include:
Dual left-turn lanes on College and Horsetooth in all directions
Northbound and southbound right-turn lanes on College with pedestrian refuge islands
Improved bicycle and pedestrian facilities on Horsetooth from Mason Street to Mitchell Drive
Full replacement of the Horsetooth bridge over Larimer Canal No. 2
Widen existing College bridge over the canal and replace pedestrian bridge
Landscaped medians and urban design elements to create a warm and friendly intersection
For more information and to sign up for project updates, visit www.fcgov.com/horsetoothandcollege.
Did you like what you just read?
Show your support for Local Journalism by helping us do more of it. It's a kind and simple gesture that will help us continue to bring stories like this to you.
Click to Donate