Support Northern Colorado Journalism
Show your support for North Forty News by helping us produce more content. It's a kind and simple gesture that will help us continue to bring more content to you.
Click to Donate
The residents of Poudre Park and nearby Poudre Canyon neighborhoods have long understood the snowmelt and weather that bring the possibility of floods in the spring and the tree-covered hillsides, blighted by disease and laden with undergrowth that make wildfire an ever-present threat. To a hardy group of people, these risks are facts to live with, far outweighed by the joys of living where they do.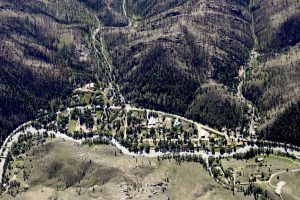 But the extraordinary fires and floods of the last two years have tested the resolve of Poudre Park residents in ways they have never before experienced. The result has been the revelation of new levels of determination, empathy and camaraderie.
What retirement?
Gwen and Carl Solley's log home sits high on a hill off Colorado 14, a few miles from Poudre Park. It overlooks Boyd's Gulch and hillsides dotted with burned trees. From their property, you can see the Cache la Poudre River and the winding highway — a view enhanced these days by brilliant fall colors.
It wasn't always so calm and peaceful.
A career firefighter in California, Carl had no idea what retirement had in store for him when he and Gwen moved into the canyon seven years ago. Before he knew it, Carl had volunteered as a firefighter and soon found himself chief of the Poudre Canyon Fire Protection District that encompasses a 50-mile stretch of the canyon, 1 mile on either side of the river. The district has four fire stations, 40 volunteers, about a quarter of them EMTs, and several emergency vehicles and ambulances.
When there's no disaster brewing, or no disaster to recover from, Carl has time to play golf, build a deck on his home and generally enjoy his spectacular surroundings — circumstances he has experienced during the last few years, but not as often as he'd hoped.
For six solid months following the High Park Fire of 2012, Carl and Gwen both put in 10-hour days. As his helpmate, Gwen keeps careful records and assists wherever she can. For Carl, who worked for a very large department in California and headed up a team who fought wildland fires and then went home when their job was done, being a chief presented a whole new set of challenges. He was responsible for organizing, coordinating, speaking with homeowners and the press and attacking mountains of paperwork.
He did it all with a smile. "If they paid me for this job I'd quit," he said.
The Solleys have a strong emotional attachment to their canyon friends and neighbors. "The hardest thing I've ever done is stand up at The Ranch evacuation center and tell people that they'd lost their homes," Carl said.
Dealing with the flood and its aftermath, he said, was less stressful.
Homes in the small gulches on either side of Poudre Park, where fire had consumed brush and undergrowth, were hardest hit by September's great flood. Water flowed down hillsides unslowed, sweeping boulders and debris with it and washing out private access roads. It was culmination of a summer of smaller flood episodes.
Another evacuation
Because of the risk associated with the possible failure of Riddle Lake dam failure in the Livermore area, all Poudre Park residents were evacuated during the September flood. Fortunately, the dam held and there was only minor flood damage to homes in Poudre Park.
Mudslides and road blockages in Poudre Canyon began in July 2012, when the first of a series of powerful rainstorms occurred after the High Park Fire was out. Private access roads on the hillsides were repeatedly washed out and residents were forced to spend large sums of money to have them repaired.
Residents in the upper portion of Falls Gulch can no longer stay in their homes. Utilities are still out and washed-out roads cut off the homes that now are not even accessible by 4-wheel drive vehicles. Four houses in the lower part of the gulch, where the road is still accessible, are inhabited and three are not. Six thousand sandbags donated by Larimer County and filled by residents and neighbors before the summer rainy season could not withstand the force of the latest flood.
Carl said a propane tank that broke loose during the flood bounced and floated down the gulch coming perilously close to people escaping the floodwaters on foot.
"Had it exploded, it would have caused loss of life for sure," he said.
In addition to providing sand and sandbags, Larimer County has gone out of its way to place retaining blocks on part of Falls Gulch and help with road repairs on private land. The state transportation department is currently installing five new culverts on Colorado 14 to help prevent mudslides and debris collection.
Looking ahead, residents who cannot or decide not to return to their homes or rebuild, are facing difficult circumstances. Property values have crashed. Sales are unlikely. Homes that are abandoned for a number of years are subject to higher than normal property taxes, putting an added burden on people who must relocate. Carl has hopes that the county will consider the lasting effects of fire and floods as taxes are assessed in years to come.
As Carl looks to the future, his emphasis is on mitigation, to prevent the loss of homes due to fire and to control erosion and runoff. The fire department has purchased a wood chipper for people to use. Carl mentions actions such as limbing trees, keeping gutters clear and keeping stacked firewood away from homes as simple things people can do that can make a big difference.
When the Solleys moved onto their property, Carl insisted on "mitigating"—removing brush, undergrowth and small shrubs from their hillside.
"I didn't want to do it," Gwen said. "We were removing pretty things."
Now she admits Carl was right. His prediction, when they first moved to the area, that a big fire was coming, proved right as well. Carl is a man to be listened to.
Gueswels will stay put

Through fire and flood, Jan and Carl Gueswel have hung tight in the home they built in 1986 near Hewlett Gulch Trailhead not far from Gordon Creek and the river in Lower Poudre Canyon.
They are mountain people and plan to stay put.
Carl grew up in the area and attended the one-room Poudre Park School, now converted into a community center. For the first 10 years of their marriage, they lived at what is now Gateway Park in the canyon. Then, after 10 years in Fort Collins, they returned to the mountains.
During the September flood Carl and Jan spent a couple of sleepless nights watching the waters rise — one of them in their car in the parking lot at Hewlett Gulch trailhead. When the power went out, Jan got out her old rotary telephone and was able to stay in touch. When a notice to evacuate came because of the risk of Riddle Lake dam collapsing, Jan called a friend in Livermore. The friend explained that the reservoir was quite small and not likely to inundate the area should the dam fail, and the Gueswels decided not to leave.
In all the years that they've been intimately connected with the Lower Poudre Canyon, the Gueswels have not experienced disasters as powerful as those that have come their way in the last two years.
They escaped both fire and flood without major damage but were recently trapped for several days by a washed-out canyon road following the September flood. Jan says they are managing quite well but are saddened by the decimation of their neighborhood. She mentions people still dealing with impassable private roads along Upper Falls Creek and in Boyd Gulch whose futures remain uncertain. Others have been forced to move because their property has been designated "flood plain" and building codes do not allow new construction.
Helping friends
Closest to home for Jan is the departure of Yoko Franks, a 10-year resident of the canyon whose driveway has washed out at least five times since the High Park Fire. Her husband died eight years ago leaving Franks to manage alone in her beautiful but remote three-story home on what Jan calls "an ugly road." Washouts or deep snow kept Yoko stranded for as long as six weeks at a time. Carl often made his way up her road, on foot if he had to, and used her small tractor to plow her out. But September's flood was the final blow. Franks left for her native Japan in mid-October.
The help she got from the Gueswels, Poudre Park neighbors and the Serve 6.8 group from Timberline Church made a difficult move as painless as possible for her. Franks sorted her belongings into piles: one for shipment to Japan; six loads to be sold at a garage sale; 12 loads to go to a thrift shop; and a final pile or to be thrown away or recycled. Jan arranged for four trucks and eight able-bodies from Serve 6.8 to join neighbors to retrieve the loads and get them to their designated places. In late October Jan sold the garage sale items and all proceeds went to the non-profit Poudre Park Community Center.
"I couldn't have done it without help from Yoko's friends and neighbors, Jan said."Newcomers Steph and Bob Maynard hit the ground running when they came here. You ask and they show up to help."
When residents of the Poudre Park area found themselves trapped, they organized a potluck at the community center as a way to touch base and assure themselves that their neighbors were OK. These days, the community center, once suffering from old age, boasts a new coat of paint and has undergone a series of repairs thanks to the generosity of a Lowe's "heroes" program that donates labor and materials to assist in upgrading buildings in need.
Jan speaks of a young woman, a relative newcomer, unable to get to town and panicked because she was out of baby food. A Poudre Park neighbor saved the day by making baby food in her blender. A simple hug from Jan brought the young woman to tears.
"Come to our pot luck," Jan suggested. At first the young woman refused saying she had nothing to bring, then suddenly realized she had the ingredients for a strudel. Her eyes lit up and she went home to bake.
It would take more than a washed out road to keep Jan from a commitment to care for her grandchildren in town while their mom went away for a few days. She had Carl drive her down the canyon as far as possible, then she walked to a point below where the road was open and a friend had agreed to meet her and drive her into town. By the time she was ready to go home, the road had opened.
The Gueswels have been told that Mother Nature is not likely to calm down very soon. It may be five to 10 years before the aftermath of the High Park and other fires no longer exacerbate flooding and send piles of debris roaring down the hillsides. But they're staying home where their hearts reside and where there's a tough-minded, caring community of like-minded people like them, ready for most anything.