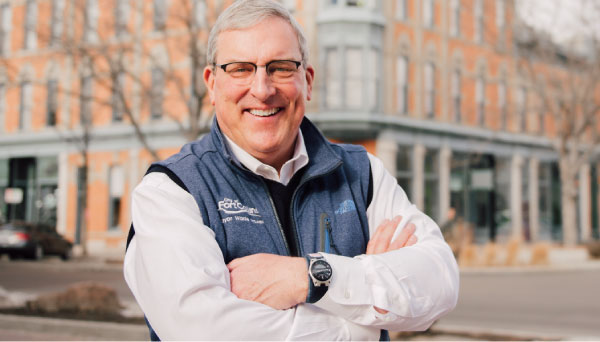 David Young, Public Relations Coordinator
Fort Collins Mayor Wade Troxell was elected by the Colorado Municipal League (CML) executive board to serve as president for 2018 – 2019. The election occurred during the 96th Annual CML conference held June 19-22 in Vail. Alamosa mayor pro tem Liz Hensley was elected Vice-President and Centennial city attorney Robert (Bob) Widner was elected secretary-treasurer. Bill Bell, Montrose City Manager, will serve as immediate past president. Mayor Troxell has served on the CML board since June 2015 and has served as Mayor of Fort Collins since April 2015.
"It's an honor to be elected to a leadership position for such a wonderful organization," said Troxell. "CML benefits the citizens of Fort Collins, and the entire state by providing invaluable resources to assist cities and towns to collaborate and improve life for all in Colorado."
Among the few Fort Collins mayors that have served as CML president is Karl Carson in 1969 – 1970. Interestingly, Mayor Troxell was a "Mayor for a day" for then-Mayor Carson.
Sam Mamet, CML's executive director, says, "We look forward to a terrific year with Wade serving as CML's President. I am confident that his insights and dedication will ensure that CML continues to be the primary source for municipal officials statewide for their advocacy, information, and training needs."
The CML Executive Board is comprised of 21 elected officials and key municipal staff members who are elected by the membership at an annual business meeting. The Board is responsible for overall finances, management, and policy affairs of the League. CML is a nonprofit, nonpartisan organization established in 1923 and represents the interests of 270 cities and towns. For more information on the Colorado Municipal League, please visit www.cml.org or call 303-831-6411.
Did you like what you just read?
Show your support for Local Journalism by helping us do more of it. It's a kind and simple gesture that will help us continue to bring stories like this to you.
Click to Donate