Support Northern Colorado Journalism
Show your support for North Forty News by helping us produce more content. It's a kind and simple gesture that will help us continue to bring more content to you.
Click to Donate
The 2012 Report on the Health of Colorado's Forests, released Feb. 20 by the Colorado State Forest Service at the annual Joint Agriculture and Natural Resources Committee Hearing at the State Capitol, details forest health concerns that span the state.
"Colorado's forest health concerns are not limited to bark beetles in high-elevation forests. We face a broad spectrum of concerns that impact our mountains, plains and urban forests," said Joe Duda, interim state forester and director of the Colorado State Forest Service. Duda spoke Feb. 20 at the Joint Ag Committee hearing.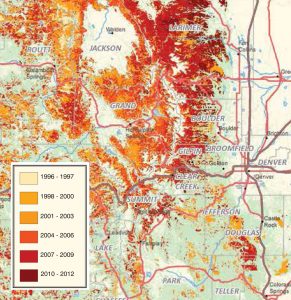 "Only through sound forest management can we ensure that our future forests provide the resources and benefits that will meet the needs of current and future generations," he said.
Each year, the Report on the Health of Colorado's Forests provides information to the Colorado General Assembly and citizens of Colorado about the health and condition of forests across the state. The report provides figures and maps detailing major insect and disease concerns in the state, including bark beetles and invasive urban tree pests.
According to the report, for the first time in recent decades, the acreage impacted by spruce beetle surpassed that of the mountain pine beetle, with a total of 311,000 acres of active infestation mapped in 2012. Mountain pine beetle-impacted acreage declined for the fourth consecutive year, but the beetle continued to be active on 264,000 acres of ponderosa, lodgepole and limber pine forests.
This is the 12th consecutive year the CSFS has produced a report on the state of Colorado's forests and actions it is taking to mitigate forest health concerns. The theme of this year's report is "Forest Stewardship through Active Management," with an emphasis on the link between healthy forests and forest management.
The principal source of information for the forest health report is the annual aerial forest health survey, a cooperative project between the CSFS and the Rocky Mountain Region of the USDA Forest Service. Other data sources include field inspections, CSFS contacts with forest landowners and special surveys designed to help ensure early detection of potentially invasive insect species.
Copies of the 2012 forest health report are available at CSFS district offices or online at csfs.colostate.edu.