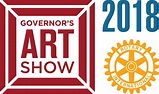 Nicole Yost
Sandy Scott and Jill Soukup to be honored in the 2018 Legacy Exhibit
Every year the Governor's Art Show board highlights artists whose past participation in the show has raised the bar for excellence, and who have work featured in the City of Loveland's Art in Public Places collection. These artists are invited to participate in a special exhibit and sale of their works that will run the length of the show—May 12-June 17—at the Loveland Museum/Gallery.
"The committee looks for artists who have excelled in their careers and who will be an inspiration to up and coming artists," said John Kinkade, Thompson Valley Rotary board member, one of the show's producers. "We are fortunate to have Sandy and Jill as our Legacy Artists. Their creations are highly coveted throughout the United States. We are delighted that our patrons will have an opportunity to collect their work at this year's show."
Soukup was born in Buffalo, N.Y. but shortly after that moved with her family to Colorado where she resides today. She was drawn to horses as a young girl, an interest she explored in countless drawings, and eventually led to her first business endeavor: painting pet portraits.
Her love and appreciation for animals, specifically horses, never left her. She graduated from Colorado State University in 1991 with a Bachelors of Fine Art and went on to spend 11 years as a graphic designer, before deciding to become a full-time painter.
Her initial studies at Chico Basin Ranch continue to influence some of her most common subjects: cows, cowboys, and of course, horses. She said in an interview with Denver Life Magazine that she feels horses are God's idea of balance and perfection—a feeling she's able to incorporate into her paintings.
Since entering into painting full time, Soukup has made a name for herself in the Western art niche. Her work has appeared in national publications and she's earned numerous awards and honors, including Best of Show in Cowgirl Up 2017 and Featured Artist for the Coors Western Art Exhibit and Sale 2013.
Soukup will be exhibiting two new paintings at the show this year—an architectural piece based in Pueblo, and an equine piece. While her work has matured over the years, she's maintained the vision and texture—thick and seemingly loosely applied paint—her work is known for.
"It's great to be brought back into this show by being honored in this way, and to be paired with Sandy," she said.  "The Governor's Art Show is a great show and really brings in the local talent."
Scott is an avid outdoorswoman, which continues to be an unending source of inspiration for her work—bronze sculptures of birds, wildlife, and other animals. She's also been a licensed pilot for nearly 50 years, a skill and hobby that has helped her successfully achieve the illusion of movement in her bird statues.
Scott studied at Kansas City Art Institute, and went on to become an animation background artist before turning her attention to etching and printmaking, and eventually sculpture.
She's headquartered in Landry, Wyo., near the foundry that casts her bronzes but spends time at her studios in Ontario, Canada and in the mountains of Northern Colorado.
Her work has been featured in many juried art shows and she has received numerous awards for sculpture and etchings. She is on the teaching staff of the Scottsdale Artists' School, the master sculpture workshops at Brookgreen Gardens, and the Tucson Art Academy.
Scott plans to show her most recent work at this year's show. "Bred for the Plowland" is a return to her agrarian roots in Iowa and her father's work with horses. "Anasazi Spendor" depicts the magnificent macaw bird, and "Roosting Rooster" is a quiet piece using the subject as a design motif.
"To all of those responsible, I am delighted by the honor of being chosen as this year's legacy artist," she said.
Works by Soukup and Scott will be exhibited prominently in the main exhibit at the Loveland Museum/Gallery. Pieces from each will be available for purchase, and proceeds from sales will be donated to foundations supported by the Loveland and Thompson Valley Rotary Clubs.
For a complete list of participating artists in the 2018 Colorado Governor's Art Show, more information or to purchase tickets, please visit governorsartshow.org or call 970-670-0035.
Did you like what you just read?
Show your support for Local Journalism by helping us do more of it. It's a kind and simple gesture that will help us continue to bring stories like this to you.
Click to Donate