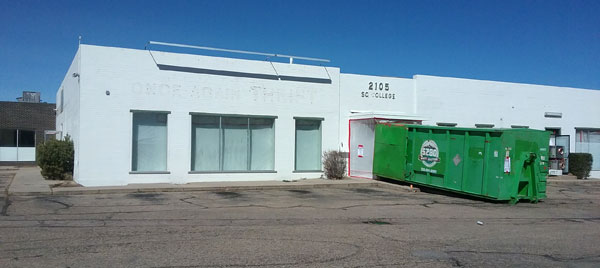 by Libby James
PHOTOS BY LIBBY JAMES AND THERESA ROSE
From the time Jan Harrison was in elementary school, she loved to learn. But she didn't always love school. She had a hard time being told what to do. Yet there were teachers that inspired her. She went on to college and afterwards earned three graduate degrees and a principal's license. She taught high school science for seven years. And still she chafed at a system she felt did not offer students the best way to learn.
Three years ago she decided to start a school—the kind of school she wished she'd been able to attend. She wanted to create another option, a different culture. A new way of learning.
Along with a tight-knit team of dedicated educators, she is a few months away from realizing her dream. Compass Community Collaborative School will open this fall.
The school will serve sixth through twelfth grades. Its home will be a big, bright open space located in mid-town Fort Collins close to a MAX bus stop and Colorado State University. There will be no separations by grade. There will be no textbooks. There will be no traditional classrooms. The building will be divided into learning spaces. Students will be able to choose to arrive at 7:55, 8:40 or 9:25 a.m. and finish school at 3:10, 4, or 4:45 p.m. to best suit family schedules.
Teachers will not be there to provide answers rather they will function as co-learners who guide students as they move toward proficiency in the areas they have chosen to study. They will move through a series of levels from explorers to surveyors, navigators, and finally to pathfinders as they deal with real world problems.
There will be times when students learn through traditional book study but it will be because they have a need to find out about something that concerns or interests them. They will serve internships with local businesses, spend time in a science lab at CSU and take college classes. They will make presentations, write articles, create art installations and prepare professional portfolios reflecting their accomplishments.
They will study and learn at their own pace. "One student might finish all of their English requirements by the time they are 15 or 16 years old," Harrison explained. "That's fine. "That student can then go on to study in another area." Compass is a certified Fort Collins charter school and students will take standard state tests and leave school prepared for college or a job.
The school is affiliated with the No Barriers organization based in Fort Collins and has several community sponsors who will welcome student interns. "It is important to break down the barriers between businesses and high school students," Harrison said. Having a young intern can benefit the business as much as it does the student, changing the culture a bit and helping employees to see high school students in a new way.
An informational brochure describes Compass as "school reimagined," emphasizing a place where the community is the classroom, where academic credit can be earned in many ways, hands-on learning happens alongside professionals in the field and science, math, entrepreneurship, language and art are learned through experience in the community.
Excitement is building. Enrollment will be limited to 170 students for the first year. Already there is a waiting list for students who won't be age eligible until a year from this fall. A parent information meeting is scheduled for 6:30-8 p.m. at Old Town Library on April 11. The school building at 2105 S. College Ave. will be open for a tour, and for burgers on the grill, from 5-7 p.m. on April 21. Anyone interested is invited to a parent advisory council meeting at the Music District, 619 South College Ave. on May 7. For more detailed information about the school see: compassfortcollins.org or call (970) 227-0481.
Pam Barker, left member of the Compass team and Jan Harrison, founder of the school
Did you like what you just read?
Show your support for Local Journalism by helping us do more of it. It's a kind and simple gesture that will help us continue to bring stories like this to you.
Click to Donate