Support Northern Colorado Journalism
Show your support for North Forty News by helping us produce more content. It's a kind and simple gesture that will help us continue to bring more content to you.
Click to Donate
In 2016, the Blue Foundation donated $10,000 to the Wellington Main Streets program after they reached a Do Gooders goal of 300 new members in Fort Collins and Wellington. The program was designed to promote the everyday good that people do for one another and to work together to achieve a common goal.
The foundation wanted to create a sustainable impact for the growing Wellington community and an infrastructure that could be used by everyone for years to come.
As a result, Wellington Main Streets and Blue Federal Credit Union worked together to install some locally-designed, locally-made bike racks along Cleveland Avenue in Wellington.
"It was an 8 month project," said to Tim Whitehouse, Vice President of of the Main Streets Program. "We tried to find designs that were our town," he said.
The group of people researched other cities with similar bike rack programs. They used bike racks in Laramie, Wyoming as inspiration to come up with eight different designs for Wellington.
Overall, bringing community together was the focus of the ribbon cutting event, held at Centennial Park in Wellington on Saturday, September 30.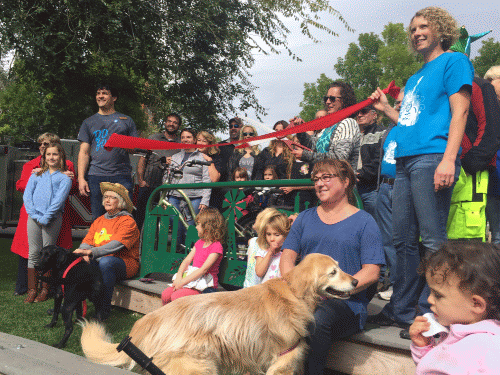 "This is a great uniting event, we are happy to see people out here," said Heather Sadina, from the Wellington Area Chamber of Commerce. She said, "it's an element of public art – anything the community can do to make Main Street better benefits businesses and the community," Sadina said.
All eight bike racks have been installed.