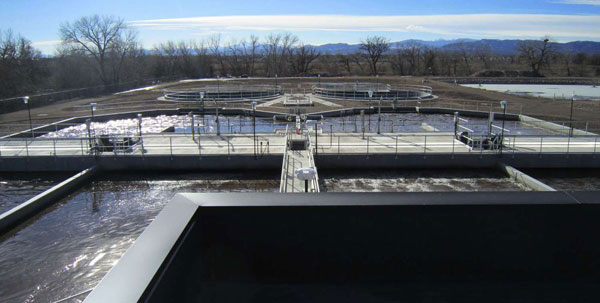 Support Northern Colorado Journalism
Show your support for North Forty News by helping us produce more content. It's a kind and simple gesture that will help us continue to bring more content to you.
Click to Donate
Project to improve wastewater treatment, water quality honored for excellence
DENVER (October 31, 2017) – Today, the U.S. Environmental Protection Agency (EPA) recognized the efforts of the Boxelder Sanitation District in Fort Collins, Colorado among 28 clean water infrastructure projects for excellence and innovation within the Clean Water State Revolving Fund (CWSRF) program. Honored projects include large wastewater infrastructure projects to small decentralized and agriculture projects.
In 2014, the Boxelder Sanitation District used $11 million in assistance from the Colorado Water Pollution Control Revolving Fund to replace its aerated lagoon system with an Orbal nitrification plant, which is successfully removing biological nutrient levels, including ammonia, from wastewater discharges year-round. The new treatment system is purifying discharges into Boxelder Creek and is one of many success stories showcased by the Colorado Water Quality Control Division's ground-breaking measurable results program. The program captured detailed instream monitoring data between 2011-2015 documenting impressive water quality improvements from the new plant, including decreases of 95-99% in nutrient levels, 88% in biological oxygen demand, 48% in selenium, and 67% in E. coli.
"For decades the Clean Water State Revolving Fund has supported critical water infrastructure projects that help grow the American economy and support our way of life," said Mike Shapiro, Acting Assistant Administrator for EPA's Office of Water. "These projects are a testament to the power of the Clean Water State Revolving Fund in leveraging investment to meet the country's diverse clean water needs."
EPA's Performance and Innovation in the SRF Creating Environmental Success (PISCES) program celebrates innovation demonstrated by CWSRF programs and assistance recipients. The CWSRF is a federal-state partnership that provides communities a permanent, independent source of low-cost financing for a wide range of water quality infrastructure projects. Over the past 30 years, CWSRF programs have provided more than $125 billion in financing for water quality infrastructure.
Twenty-eight projects by state or local governments, public utilities, and private entities were recognized by the 2017 PISCES program.
More about recognized projects and the PISCES program: https://www.epa.gov/cwsrf/pisces
More on Boxelder Sanitation District visit: http://boxeldersanitation.org/