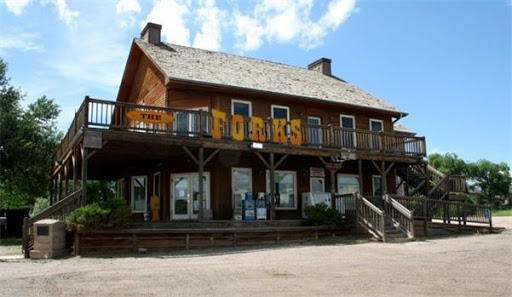 Just in time for Memorial Day, The Forks Mercantile's restaurant in Livermore re-opened for business after closing due to statewide closures of restaurants as a result of COVID-19.
From their Facebook Page (on May 23):
Opening the Restaurant!

Hey Guys! Just a quick update to let you know that we have been cleared to open the Restaurant.

We will be open Sunday at Noon and Monday at 11:00. We ask that you wear a mask but can take it off to eat.
Hope to see you this weekend!
Get the Local Burger Special or Philly Sandwich Special with Fries for only $10.
Until May 31st.

Happy Memorial Day Weekend!
From The Forks Family.

Monday Memorial Day:
11 am to 7 pm
Restaurant Take Out:
Wednesday & Thursday 4-8 pm
Friday – Sunday 12-8 pm
Deli Take Out:
8 am to 4 pm
Pizza Take Out
4 pm to 8 pm
Staff reported a somewhat slow weekend in the restaurant, but extraordinary traffic in their mercantile store. "We sold out of everything," said a The Forks employee. "The restaurant is slow because we think people just don't know about it reopening," the employee said.
The Forks is located at 17685 North Hwy 287 in Livermore.
The Forks was originally built to accommodate loggers in the Winter of 1874 who were traveling between Fort Collins to Pingree Hill, then over the Divide to Steamboat Springs. The original building was burned in a fire, but it was rebuilt to resemble it.
The restaurant is a local favorite, well-known for its specialty fries and hamburgers as well as a wide variety of other menu items.
For more information: https://www.forksmercantile.com/
Did you like what you just read?
Show your support for Local Journalism by helping us do more of it. It's a kind and simple gesture that will help us continue to bring stories like this to you.
Click to Donate