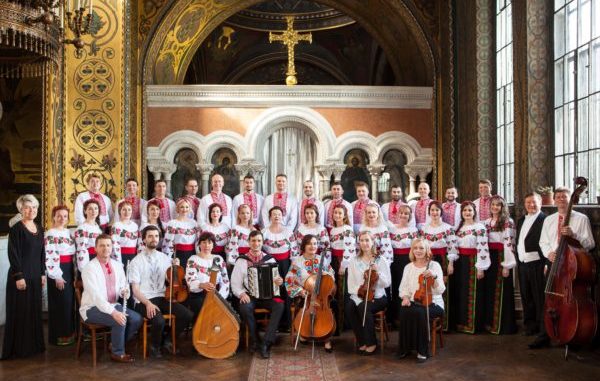 FORT COLLINS, COLORADO—August 16, 2018—The world‐acclaimed Kiev Symphony Orchestra and Chorus, a group of distinguished Ukrainian musicians, will continue its 26th Anniversary celebration and U. S. tour with two unique and free concerts at Faith Church and First Presbyterian Church Fort Collins this September. Many KSOC members are graduates of the world‐renowned Tchaikovsky National Music Academy and regularly perform both cultural songs and sacred masterpieces of classical music in Ukraine and at churches, colleges, and concert halls throughout the world.
The concerts will feature sacred classical masterpieces as well as Ukrainian folk songs. All performances are free and open to the public. A free‐will offering will be taken.
Celebrate the music and ministry of the Kiev Symphony Orchestra and Chorus:
 Saturday, September 22 at 7:00 p.m., Faith Church, 3920 S. Shields Street
 Sunday, September 23 at 4:00 p.m., First Presbyterian Church, 531 S. College Avenue
. For a complete tour schedule, please visit https://www.musicmissionkiev.org/tour.
About Kiev Symphony Orchestra and Chorus (KSOC)/Music Mission Kiev (MMK):
KSOC was founded by Dr. Roger McMurrin in 1992, when he was invited to Kiev to accept the challenge of beginning the reintroduction of Christian and other classical musical works into the former Communist nation. For 70 years, the former Communist countries would not allow missionaries to come, but they did welcome musical groups to visit. This opened the door for MMK to bring in the Gospel through sacred and classical music and to share the message of Christ in Ukraine.
This organization began as an opportunity to share the gospel through music and has grown into the Music Mission Kiev (MMK), a thriving ministry that focuses on evangelism, discipleship, and compassionate care for widows, orphans, and victims of war in Ukraine. For example, MMK currently supports almost 500 widows through weekly food packets, Bible studies, and home visitations. For more information, please visit www.musicmissionkiev.org.
About First Presbyterian Church:
First Presbyterian Church, Fort Collins, is a 780 member PC(USA) church located 2 blocks from the Colorado State University campus and 2 blocks from the heart of downtown ("Old Town") Fort Collins. Fort Collins is a small city of 150,000 nestled at the foot of the Rocky Mountains, 1 hour north of Denver. We have a long history of being active and a strong leader in the community, known for our commitment to missions and compassionate service, thoughtful and engaging worship, caring fellowship and biblical preaching. To learn more, visit our website at www.firspresfc.org.
CONTACT:
Marvin Crawford, Director of Music and the Arts, mcrawford@firstpresfc.org
Did you like what you just read?
Show your support for Local Journalism by helping us do more of it. It's a kind and simple gesture that will help us continue to bring stories like this to you.
Click to Donate