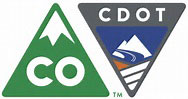 Jared Fiel, Communications Manager
ESTES PARK – Crews from Flatiron Constructors and the Colorado Department of Transportation will begin rock-scaling on Colorado Highway 7, a means of loosening debris to minimize highway obstructions. Motorists can expect a one-lane closure with anticipated hold times of up to 20-minutes starting Monday. If emergency circumstances arise, the hold times could increase to provide safe public travel.
Laborers, harnessed and suspended by ropes, will dislodge any potentially unstable material in a controlled manner from side slopes for two miles north of Lily Lake while rock-scaling occurs. The activity is expected to take approximately two to three weeks.
CO 7's resurfacing project began in early May and will take a winter break the first part of December.  To date, pipe culverts and side drains have been installed throughout the 12-mile construction zone. Excavation to widen the road with the goal of safety and adding space for additional bikes lanes also has been a focus of this 2018 first-phase of construction.
In-town work started after Labor Day and has comprised of curb, gutter and sidewalk enhancements to better accommodate persons with disabilities. For the next month, crews will continue to finalize items, such as patching potholes in preparation for winter.
Efforts to restore the integrity of CO 7 after heavy truck traffic damaged the road in association with the 2013 flood will resume in the spring of 2019. Final project completion is slated for September 2019.
PROJECT SCHEDULE
Upcoming hours will be from 8 a.m. to 6 p.m., Monday through Friday.
PROJECT DETAILS
Cost: $13 million

Permanent flood repairs

Two-inch mill and overlay

Road widening to accommodate bike lanes

Culvert repairs and replacement

Curb ramps
TRAVEL IMPACTS
Single lane closure with up to 20-minute delays

Shoulder closures

Sidewalk detours
STAY INFORMED ABOUT THIS PROJECT: The public is encouraged to sign up for notifications to stay informed. Subscribe to updates by contacting the project hotline phone number at 970-903-9785 or email CO7EstesPark@gmail.com. Additional information on CO 7 can be obtained by visiting the project website: www.codot.gov/projects/co-7-road-bike-lane-ada-improvements-in-estes-park
Did you like what you just read?
Show your support for Local Journalism by helping us do more of it. It's a kind and simple gesture that will help us continue to bring stories like this to you.
Click to Donate