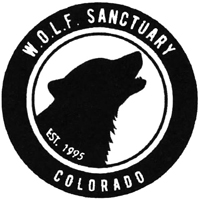 On October 18, 2017 at 6:30 P.M. the Larimer County Planning Commission held a public hearing for the W.O.L.F. Special Review. The proposal is for a wolf/dog shelter on approximately 180 acres located on the north side of county road 74E at CR 68. Up to 60 animals would be housed at the facility, which would also include an office, veterinary facility, shops, gift shop, educational/visitors center and caretaker's residences.
Support Northern Colorado Journalism
Show your support for North Forty News by helping us produce more content. It's a kind and simple gesture that will help us continue to bring more content to you.
BONUS - Donors get a link in their receipt to sign up for our once-per-week instant text messaging alert. Get your e-copy of North Forty News the moment it is released!
Click to Donate
The hearing was so well attended that two additional courtrooms were employed to accommodate attendees, who included a nearly equal number of those in favor of the proposal and those opposed.
W.O.L.F. has been an active animal sanctuary for over 20 years; the current location is on Spring Valley Road off of Rist Canyon Road and has become unmanageable since the High Park Fire due to erosion and constant flooding. A series of holding ponds to catch the flow has proved inadequate.
Neighborhood opposition is understandable. The locals fear the intrusion of a "tourist attraction", involving traffic, dust, noise and emissions but most of all, they fear the wolf/dogs themselves. These animals are clever, their ability to climb or dig their way out of enclosures is well known. But the main reason for the objection, as around thirty people stood up and individually made their cases, is the noise, mainly the howling.
Having observed the animals up close, these are the joyful sing-a-longs of a group of happy animals who have been rescued from situations of neglect, starvation, isolation, life on a chain or in a small enclosure. It is not illegal to breed wolf/dog puppies for sale as pets and there is many a romantic who would pay a substantial amount for a puppy who grows into something that is definitely NOT a dog.
These animals cannot be confined inside and will destroy furniture, walls, doors or even jump out of windows. Owners may trigger dominance behavior by playing dog games like tugging or wrestling. Also, these are pack animals and should not be alone. They will howl all night for sheer loneliness.
W.O.L.F. is a sanctuary where rescued animals go and remain for the rest of their lives. They do not get re-habbed and released or re-homed. The average age of these animals is around 10 years of age although there is currently a 6-month-old puppy at the shelter. Over 180,000 animals are killed every year in spite of the number of wolf/dog sanctuaries in the U.S. who aid each other in placing the animals. The calls come in by the hundreds.
Essentially, this project has been in process for over twenty years, beginning with the previous site, and with the assistance and attention of the Larimer County Commissioner's office. To reach the goals of the site plan presented by W.O.L.F. would most likely take an additional twenty years, or more, with the greatest obstacle being the raising of funds.
While most of the opposition consisted of homeowners concerned about the disruption of the peace and quiet in the neighborhood, the others are ranchers whose livelihood depends on the health and well-being of their cattle. Cows disturbed by the presence of predators are likely to trample their own calves in the panic and confusion.
The final decision was voted on by the commissioners was this: four "Yes", four "No" and one not present. The chair wasn't sure what to do with a tie.  There is nothing in the by-laws about how to handle a tie and it appears to be a stalemate. What had seemed to be a done deal apparently was not.
Should W.O.L.F. be forced to vacate the site for whatever reasons, the most likely fate for the area would be yet another subdivision, with all the issues of water shortages, HOAs, barking dogs, more traffic, more noise and more quarreling neighbors.