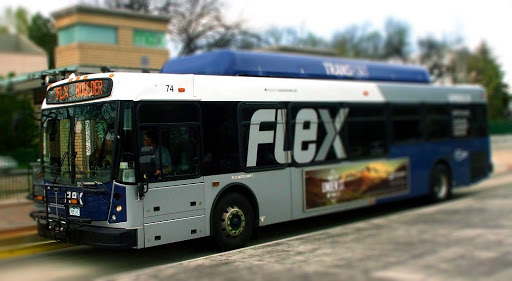 Support Northern Colorado Journalism
Show your support for North Forty News by helping us produce more content. It's a kind and simple gesture that will help us continue to bring more content to you.
Click to Donate
The City of Fort Collins has received a $10.7 million RAISE grant from the U.S. Department of Transportation for the design and construction of the Foothills Transit Center on the west side of Fort Collins as a result of a collaborative effort among the City, Colorado State University, and community partners.
The new transit center will be located at the intersection of Overland Trail and West Elizabeth Street. It will serve as a destination and transfer center for several existing Transfort bus routes. The transit center will also tie into the future West Elizabeth Bus Rapid Transit project.
Also included in the project is a roundabout at Overland and Elizabeth, which will facilitate traffic movements in the area and create a safer intersection for bicycles and pedestrians.
CSU assisted in the project through a match of land value, meaning CSU will allow its property to be used for the project, and the value of that land is used as an in-kind match for the USDOT grant. This arrangement is similar to existing ones for the Campus Transit Center and a section of MAX through campus.
The RAISE grant is the latest development in collaborative planning between CSU and the City for the West Elizabeth Street corridor. In the past decade, the City and CSU have collaborated on joint planning efforts involving the West Central Neighborhoods Plan, the West Elizabeth Enhanced Travel Corridor Plan, and City Plan.
The overall Foothills Transit Center project has been several years in the making and included a visit from the Federal Transit Administration in 2019. The center ties into multiple long-range plans, including the Transit Master Plan, and works toward several City goals, including:
Serving as an on-route charging point for battery electric buses as Transfort continues to expand its electric fleet,
Accommodating both short and long-range improvements to transit and transportation along the West Elizabeth corridor,
Improving transit access on the west side of Fort Collins by ultimately improving connections to other points in the City and regionally,
Improving pedestrian and bicycle safety on the west end of the West Elizabeth corridor.
The total cost for the Foothills Transit Center, including the roundabout, is estimated to be $12.9 million. In addition to the grant and CSU's land match, the remaining money will come from other federal funds, Xcel's Commercial EV program, and other local funds.
The final design of the Foothills Transit Center will begin in 2023 and wrap up in 2024. Construction is expected to begin in 2025.
To learn more about Transfort, visit www.ridetransfort.com.
To learn more about all improvements on the West Elizabeth Corridor, including bus rapid transit, visit www.fcgov.com/westelizabeth.