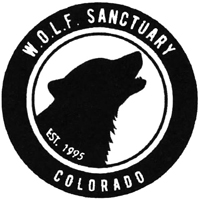 The W.O.L.F. organization held an open house at the proposed site on Sunday, Nov. 12. About 60-70 people attended. Some were already supporters, others were curious and hadn't formed an opinion, and some were opposed and asked questions. Most who were on the fence hadn't known much about W.O.L.F., or were tending to not want W.O.L.F. there. In general, they left the open house in support or at least with more accurate facts than they had heard elsewhere.  One couple who took the ATV tour of the property said it helped quite a bit because maps and computer layouts can only do so much. Seeing it in person made an impact.
                                                The W.O.L.F. Sanctuary's mission statement is as follows:
Rescue – Save captive-born wolves and wolf dogs who need sanctuary placement in order to survive.
Sanctuary – Provide a life-long home at W.O.L.F. in a natural habitat that takes into account each individual's physical, medical, and emotional needs.
Education – Provide the general public with education about the plight of wolves and wolf dogs (both captive-born and wild) to help foster a greater understanding of them and their value.
For twenty years, W.O.L.F has been located on Spring Valley Road off of Rist Canyon Road. Since the High Park Fire, the site has become unmanageable due to flooding. A new site, owned by the W.O.L.F. organization, is located just north of 74 E at Boy Scout Road. Many local residents and a few ranchers are outraged, the main complaint being the periodic howling but also fears of an escape.
More information about the organization may be found at: http://wolfsanctuary.co/
Did you like what you just read?
Show your support for Local Journalism by helping us do more of it. It's a kind and simple gesture that will help us continue to bring stories like this to you.
Click to Donate