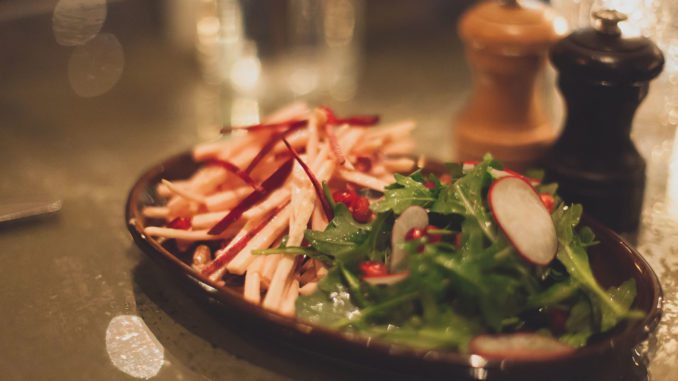 by Doug Usher
When was the last time you went out to dinner and put your trust in the chef and servers to steer the way? The Kitchen Fort Collins has a menu set up to do just that. Their "Taste of the Kitchen" menu is a multi-course experience designed to give diners a feel for the season and what ingredients the chef is excited about. These items don't appear on the normal menu, and change frequently depending on what ingredients are fresh.
Support Northern Colorado Journalism
Show your support for North Forty News by helping us produce more content. It's a kind and simple gesture that will help us continue to bring more content to you.
BONUS - Donors get a link in their receipt to sign up for our once-per-week instant text messaging alert. Get your e-copy of North Forty News the moment it is released!
Click to Donate
Each course is served "family style" for everyone at the table to share. This approach naturally engenders conversation. After settling in, we not only handed over the food reins to the kitchen, but we let our beverages be selected by our extremely knowledgeable server.
To begin, why not a round of cocktails? The Odell-a-rita is a beer cocktail that combines the hoppiness of an IPA with the sweet and sour flavors of a margarita, complete with a hop-salt rim. The Autumn Old Fashioned is a seasonal take on the classic. The clove liqueur bringing a hint of the holidays to the glass.
Pumpkin soup started the night. The pumpkins were previously used as decorations around the restaurant until their time was ripe, and they headed to the kitchen, just one example of The Kitchen's commitment to both sustainability and seasonality. The soup was rich and savory, the garnish of sumac adding a bright citrus note.
Next, a beautiful celery root remoulade, with raw beets, radish, arugula, mint and pomegranate. Bright and fresh, it was a mix between a palette refresher and an "ok, it's time to get hungry" course.
People are sometimes leery of steak tartare, but if you're going to try it anywhere, do it here. It was rich and complex, with a raw egg yolk, grilled crostini and lightly pickled beets. It was beefy in all the best ways and really showcased the quality of the ingredients.
With our plate of mushroom risotto, our server selected both a Sangiovese and an Orval (my personal favorite beer) to accompany. The perfectly cooked mushrooms were center stage here, with the creamy risotto providing balance and texture. It was topped with parmesan and celery leaves, a subtle nod to The Kitchen's commitment to maximizing their ingredients.
The main course was a perfectly cooked steak, with parsnip puree and charred rapini. What I especially loved about this dish was the way it all worked together. The puree was buttery to the point of being a frosting and the rapini strikingly bitter, but when combined with the steak to form a single bite, you are rewarded with something unique and satisfying. Here, Chef Brent really showcases his skills, with something so simple and classic, yet surprising in it's complexity and seasonality.
The cranberry upside down cake was more savory than sweet, its sense of season, overwhelming. Tart cranberries and fresh thyme brought out the flavors of Thanksgiving dinner. We indulged heartily while chatting with Chef Brent about the menu and what's coming up next (hint: braised meats). As we finished our meal, gazing out the windows at the holiday lights twinkling in Old Town, there was no doubt that The Kitchen is truly embracing what it means to have a seasonal, local, and fresh menu, no matter the temperature outside.