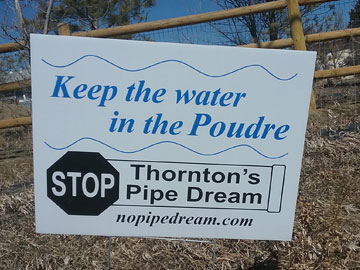 Support Northern Colorado Journalism
Show your support for North Forty News by helping us produce more content. It's a kind and simple gesture that will help us continue to bring more content to you.
Click to Donate
With the first hearing of the Thornton Northern Project scheduled for May 16, the grassroots No Pipe Dream organization has scheduled a Rally for the River on May 5and a Public Pipeline Forum on May 7.  The public is invited to both events.
The two events are intended to inform the public about the immediate and future impacts of Thornton's 3-phase project, which is intended to deliver Poudre water to Thornton lawns, should Larimer County officials approve the first phase of the Denver suburb's plans.  Members of No Pipe Dream believe that the Poudre River is the natural pipeline for Thornton's water and that the city has failed to analyze all reasonable alternatives.
The Rally for the River will take place from 4-6 p.m. on Saturday, May 5, at Avogadro's Number, 605 S. Mason in Fort Collins.  In addition to inspiring citizen comment at the May 16 Larimer County Planning Commission Hearing, there will be music, river-related art sales and socializing.  The non-profit, Save The Poudre, is co-sponsoring the event.
On Monday, May 7, the public is invited to the Public Pipeline Forum, which will run from 6:00 to 7:00 p.m. at the Coloradoan's Community Room, 1300 Riverside.  The forum will consist of a moderated panel discussion, followed by questions from the audience.  The City of Thornton will be represented on the panel, as will area residents, river activists and public interests.
For information on how to stop Thornton's pipe dream and keep the water in the Poudre, go to https.//nopipedream.com.