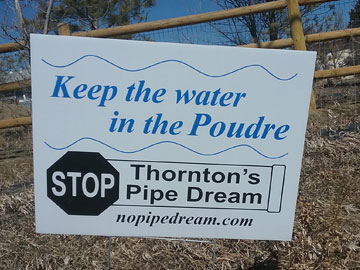 Support Northern Colorado Journalism
Show your support for North Forty News by helping us produce more content. It's a kind and simple gesture that will help us continue to bring more content to you.
Click to Donate
Lynn U. Nichols
The grassroots No Pipe Dream organization will hold a "Facebook Live" press conference at 9:30 AM on Tuesday, April 17, outside the Larimer County Courthouse, 200 W. Oak St., to inform Larimer County residents, citizens of Fort Collins, elected officials and the media of the full scope of the Thornton Water Project, aka the Thornton Pipeline.
No Pipe Dream formed last year to oppose Thornton's proposed plan to deliver its water to its suburb 70 miles away via a 48-inch pipeline, and advocates using the river as a natural pipeline through Fort Collins.
Instead. In the course of its efforts, the citizen group has uncovered critical information regarding additional, ongoing phases of Thornton's project that are not included in Thornton's current application.
Recently found documents indicate that the project is much larger than the single pipeline described in Thornton's application. The larger plan does not involve just one pipeline, but two additional pipelines of equal or greater size, for a total of three.
No Pipe Dream is calling for the Larimer County Commissioners to strongly consider this additional information, and the project as a whole, before moving Thornton's 1041 application forward. The group believes that Larimer County officials may be uninformed about the larger scope of the project, and plans to present this information to the commissioners before the press conference during their regularly scheduled meeting. No Pipe Dream contends that until the full scope is included in the 1041, Larimer County is unable to fully inform citizens of the details and extent of the project.
Join the 500+ members of No Pipe Dream, online, or in person, on April 17 to learn the full story of how Thornton plans to deliver water to suburban taps.