A man in the clown suit led the parade of seven fire engines from Dowdy Lake to downtown Red Feather Lakes, just as he had every year for 28 years. But this was Steve Robinson's final appearance at the head of the annual Fire Days village celebration and fundraising drive for the Red Feather Fire Protection District. The long-time fire chief is retiring in January.
Fire Days, is an important village event. This year it was rescheduled to Sept. 1 from July 4th because of the High Park Fire. The circumstances made the Fire Days name feel a little edgy in view of the remaining nervousness over the fire that still affects local residents.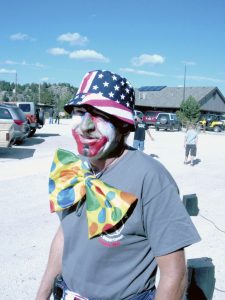 Although local residents know him as the dedicated department chief of 28 years, Robinson said the clown suit "is who I really am."
Robinson's retirement is the end of an era for the Red Feather FPD. Steve's father, Rick, was fire chief before him. His mother, Audrey, served three decades as a volunteer. Their family goes so far back in the area that the local museum is housed in the Robinson Family Cabin, moved in recent years to Red Feather from its previous pioneer location on Elkhorn Creek.
The parade kicked off a celebration that involves almost everyone in the village. The Library held a book sale. The Property Owner's Association hosted a BBQ lunch. The Lion's Club hosted kids' events in the park and held a veterans memorial ceremony. The Historical Society raised funds selling cutlery in the village-wide craft sale. Kids got to ride the fire trucks, and blow the siren. Two bands entertained the crowds. The volunteer group Mountain Gals held a bake sale and sold out by noon. A medical evacuation helicopter was on display. And to ease the morning-after pain, the Lion's Club offered a Sunday morning pancake breakfast.
"We're going to miss him and it will be hard to fill his shoes," said Library director Creed Kidd of Robinson. "It's going to leave a big hole – he's been a hell of a fire chief," said local resident Bill Gilbert.
But Robinson insisted that he is not special. "I'm just one member; it takes a team."
He ought to know, as he trained that team. During the celebration he handed out award plaques to Jerry Butzine as "Firefighter of the Year" and to Char Tipton as Citizen of the Year.
Steve will continue to lead the department and stay on an additional six months to help train the new chief, as yet unnamed. This means that he will remain on call 24 hours a day, seven days a week, as he has during 33 years of service. The toll this takes is tough on the families of fire fighters.
"Nobody knows what the volunteer's families go through," said his mother Audrey, "and we're proud of him."
For his part, Steve intends to spend more time with his family, and will continue to operate his side-line businesses of snow removal, security services and custom metal fabrication.
He said he is proud of the community support that has allowed the department to grow. His proudest moment was when the department earned an ISO rating of 9, up from 7.
Such a rating is important for establishing local insurance premium ratings and indicates the level of training and equipment acquisition that Robinson's efforts achieved.
Did you like what you just read?
Show your support for Local Journalism by helping us do more of it. It's a kind and simple gesture that will help us continue to bring stories like this to you.
Click to Donate