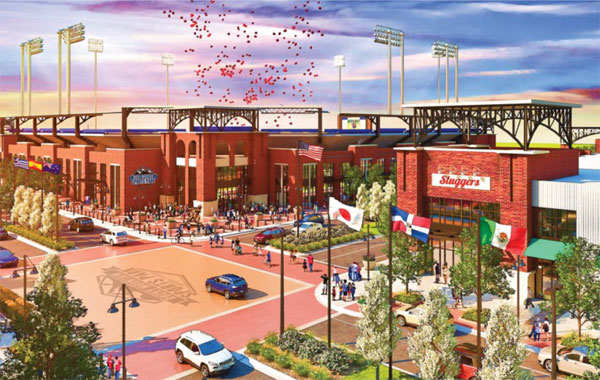 by Theresa Rose, edited by Libby James
The plan for a giant sports park on 490 acres near Windsor and Severance has opponents. Those living in the area are concerned with overwhelming the neighborhoods with traffic, noise, bright lights where there used to be stars at night and any number of other unforeseen changes. But change is inevitable, development will happen and the world's largest sports park, dedicated to amateur and youth sports with a focus on baseball and softball, isn't necessarily unwelcome.
A meeting was held at the Recreation Center in Windsor on the 18th of December, open to the public and press where a previous meeting was organized by residents of Soaring Eagle Ranch. The press was not invited. There were no chairs and no speeches. Attendees were guided through a series of easel presentations, defining zoning, water management, preservation of an existing pond, traffic studies, and a map of a parcel of property still to be annexed. Each station had a representative to answer questions, of which there were many.
Rocky Mountain Sports Park is intended to be a destination baseball and softball complex focused on youth sports. Plans include a 4,500 seat stadium as the centerpiece, 67 playing fields for tournaments and practice at all amateur levels of play, concession stands, indoor practice and training facilities, and house for its visitors. RMSP intends to attract teams from around the world.
The project has had a bumpy start. The first project manager, Mike Billadeau, who called himself the Founder, President and Director of Operations, mysteriously vanished from the project with no explanation, although there is speculation that a seriously flawed site plan may have had something to do with it.  The original plan had parking lots literally on top of or too close to existing houses.
The current plan has been reworked, including:
A stadium reduced in size from a 10,000 to 4500 capacity
A specially designed field for the physically challenged
5 high school/ collegiate fields
10 youth fields
4 T-ball fields
16 tournament baseball fields
16 tournament softball fields
15 Multi-use fields (football, soccer, and lacrosse)
Four-square Construction and Management based in Casper, Wyoming, has been hired to manage the construction. Their web site shows a series of previous projects including sports fields and a swimming pool. Rocky Mountain Sports Park will be their largest project to date.
Hellas Construction of Austin, Texas, specializes in sports construction with a focus on recycling and sustainability. They will be responsible for the installation of the turf. Matrix Turf, is an artificial turf made of recyclable materials layered on top of an organic material called GEO Plus, designed to hold water and reduce heat absorption by up to 40 degrees. GEO Plus is made of organic coconut fibers and cork with the texture of rich potting soil. The next layer down is pea gravel, assisting in shock absorption and drainage. Every Matrix Turf field starts with free-draining stone, allowing for water migration and stability.
Shawn Logan, director of marketing for RMSP, stated that the project is in its infant stages and they are hoping to begin construction in March of 2018. One of the ongoing questions is about where the money is coming from, and why there have been no meetings with the adjacent neighborhoods, although there was a one hour meeting, early in December with the residents of Soaring Eagle Ranch. The meeting was set up by the Soaring Eagle HOA and held at the Windsor Middle School. The press was not invited. Soaring Eagle Ranch is an upscale community on the east side of Hwy 257, directly across from the proposed series of shops, hotels and restaurants depicted in the artist's rendering.
The most informed spokesperson for the local residents, Dave Ruane, lives in a neighborhood which shares one of boundaries with the park. This is his summation of the meeting:
"The project is concerning for all the typical reasons for a large scale project in a rural area – the new traffic, new noise and even the impact the lights will have. The lack of previous experience by the project stakeholders, the way they have treated homeowners in the area, and the lack of proactive communications compounds the problem. They seem to be more intent on being the "world's largest" rather than being a quality addition to the area and working with the current residents of the area."
The plan is updated often and the presentation included a diagram of a much reduced Phase 1.  According to sources, RMSP has not actually purchased the 487 acres they claim, but rather, the owners of the property – North Windsor Holdings, LLC/Northlake Metropolitan Districts 1-5 (primarily John Turner and Chris Frye) appear to be partnering with RMSP but still hold the property at this time. A public hearing will be held sometime between February and March.
Did you like what you just read?
Show your support for Local Journalism by helping us do more of it. It's a kind and simple gesture that will help us continue to bring stories like this to you.
Click to Donate