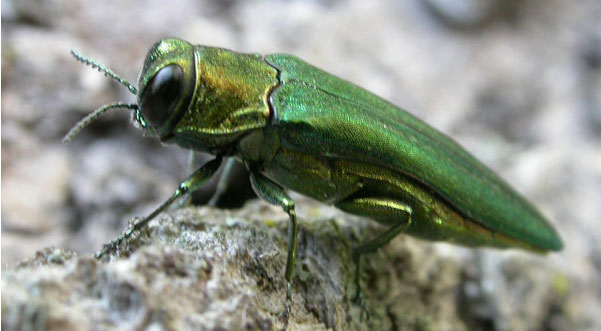 Support Northern Colorado Journalism
Show your support for North Forty News by helping us produce more content. It's a kind and simple gesture that will help us continue to bring more content to you.
Click to Donate
Ryan Lockwood
FORT COLLINS, Colo. – April 25, 2018 – Today, the Colorado State University community and Fort Collins residents can volunteer to plant trees on campus in celebration of Arbor Day, while at the same time learn about an effective way to prepare for the coming of emerald ash borer (EAB) – an invasive, highly destructive tree pest. The planting will be part of an ongoing effort to help diversify the campus' urban forest.
EAB, first detected in Colorado in 2013 and having now spread throughout Boulder County, poses a threat to all true ash trees – which make up an estimated 15 percent of all urban and community trees in Fort Collins and around the state. The pest is so aggressive that ash trees typically die within two to four years after becoming infested.
This is the seventh straight year CSU will host a volunteer tree planting to celebrate Arbor Day and recognize its continued designation as a Tree Campus USA. The national program was created in 2008 by the Arbor Day Foundation to honor colleges and universities for effective campus forest management and for engaging staff and students in conservation goals.
Today, 15 trees of diverse species including catalpa, hackberry and oak will be planted along Plum Street as part of larger CSU efforts to replace ash trees on campus. Of the trees being planted this week, some are replacing recently removed ash, but others are being planted near living trees to give them a head start before the older ash are removed – a strategy known as "shadow planting."
"This is a great opportunity to see how you can plant near at-risk ash trees, in preparation for their removal in the near future," said Greg Zausen, forester for the Colorado State Forest Service Fort Collins Field Office. "We also want to emphasize the importance of planting diversity to minimize the threat of tree pests, because many destructive insects like emerald ash borer only attack a specific host tree type."
Several CSFS staff are members of CSU's Tree Advisory Committee, which also has representation from CSU Facilities Management, Warner College of Natural Resources, College of Agricultural Sciences, Extension and student groups, as well as the retired Fort Collins City Forester.
The planting event will commence at 1 p.m. along Plum Street on campus near the north ramp of Moby Gym. CSU Facilities Management and the CSFS will lead the volunteer tree planting event – with help from arboriculture and Nursery and Landscape Management students – and participants will receive free T-shirts, pizza and promotional items donated by the CSU Bookstore.
To volunteer or for more information, contact becca.mueller@colostate.edu.