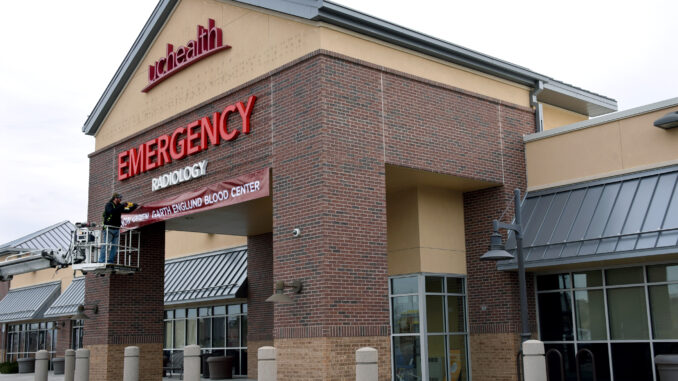 UCHealth is seeing an uptick in hospitalizations due to respiratory illnesses, just as the season of holiday gatherings and travel is about to begin.
On Monday, UCHealth hospitals across the state cared for 75 patients who had confirmed COVID-19 infections. Twenty-eight patients were cared for in UCHealth's northern Colorado hospitals.
Support Northern Colorado Journalism
Show your support for North Forty News by helping us produce more content. It's a kind and simple gesture that will help us continue to bring more content to you.
BONUS - Donors get a link in their receipt to sign up for our once-per-week instant text messaging alert. Get your e-copy of North Forty News the moment it is released!
Click to Donate
"We are officially in respiratory virus season. That includes everything you can think of, from the common cold to more severe illnesses," said Dr. Michelle Barron, senior medical director of infection prevention and control for UCHealth and one of the top infectious disease experts in Colorado.
And now is the perfect time for Coloradans to protect themselves and others, she added.
It takes about two weeks after vaccination for the flu shot and other vaccines to become fully effective. So, Barron is urging people to get their flu and COVID-19 vaccines now (if they haven't already). That way, they'll be fully protected when holiday gatherings begin later this month. (Read more about the new vaccines)
In addition, people ages 60 and older and persons at 32-36 weeks of pregnancy can get vaccines to help prevent Respiratory Syncytial Virus (RSV).
Barron is also encouraging people to stay home if they aren't feeling well.
"Use your common sense. If you're sick, you don't want to give your illness to grandma and grandpa. At the end of the day, the goal is to still be able to do things and enjoy the holidays. Just do it in a way that doesn't impact others badly," said Barron.
To protect patients, visitors and staff, UCHealth is implementing seasonal visitor restrictions at all of its hospitals and clinics. The following visitor restrictions are now in effect:
Most patients may have an unlimited number of visitors per day but no more than two visitors or support persons at a time. Visitor hours are from 6 a.m. to 10 p.m.
Visitors under 12 years of age are prohibited from visiting these high-risk areas: all intensive care units, transplant locations, oncology inpatient floors, and pediatric units, including NICUs and special care nurseries. Restrictions also apply to some units where ICU and oncology patients are being treated.
Visitors with coughs or other signs of respiratory illness will be asked to wear a mask while in the facility or to wait to visit when they are healthy.
Barron's tips to stay healthier over the 2023 holidays:
Get vaccinated to prevent COVID-19 and flu.
Stay home from work, holiday gatherings, and parties if you're sick.
Wash your hands frequently.
Wear a mask in crowded indoor settings if you are immunocompromised or if you just want an extra layer of protection.
Test yourself or go to your doctor's office to get tested if you are sick. If you test positive, there are therapies that can help people early in the course of a COVID-19 or flu illness.
Seek emergency medical care immediately if you or your child can't breathe or you are experiencing any other kind of medical emergency.
Get preventive care like regular vaccines for children and adults and keep current on medications for chronic illnesses like diabetes.
About UCHealth  
UCHealth is an innovative, nonprofit health system that delivers the highest quality medical care with an excellent patient experience. UCHealth includes 30,000 employees, 12 acute-care hospitals and hundreds of physicians across Colorado, southern Wyoming and western Nebraska. With University of Colorado Hospital on the CU Anschutz Medical Campus as its academic anchor and the only adult academic medical center in the region, UCHealth is dedicated to providing unmatched patient care in the Rocky Mountain West. Offering more than 150 clinic locations, UCHealth provides extensive community benefits and pushes the boundaries of medicine through advanced treatments and clinical trials, improving health through innovation.