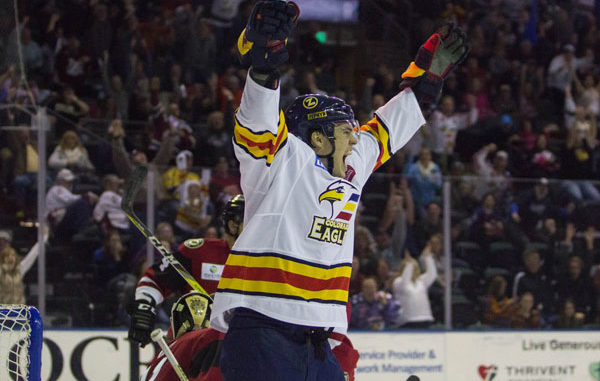 Support Northern Colorado Journalism
Show your support for North Forty News by helping us produce more content. It's a kind and simple gesture that will help us continue to bring more content to you.
Click to Donate
Zack Orr, Director of Marketing | Budweiser Events Center
(Loveland, CO) – Spectra, operators of Budweiser Events Center, caps off a busy thirteen day stretch as they converted the Budweiser Events Center five times for nine events from May 22 to June 3. Included in this stretch were four Colorado Eagles games, a Celtic Woman concert, three graduations, and seven performances of Corteo by Cirque du Soleil.
"I'm very proud of our team at the Budweiser Events Center," said Spectra's Tom Manning, Director of Operations, Budweiser Events Center. "Our whole staff put in a tremendous amount of time and effort, to have our arena ready for each of these events."
The Colorado Eagles kicked off the busy week on Tuesday, May 22 and Wednesday, May 23 as they took on the Fort Wayne Komets in Game 6 and Game 7 of the ECHL Western Conference Finals. After a thrilling overtime Colorado Eagles victory in Game 7 to advance to the Kelly Cup finals, the first of five venue transformations began. Staff converted the arena for the Celtic Woman concert on Thursday, May 24. Once the concert was over Thursday night, the arena was transitioned back to hockey for the Eagles to take on the Florida Everblades in Game 1 of the Kelly Cup Finals on Friday, May 25. After an exciting 3-1 victory of Florida to grab a 1-0 series lead, the venue was converted once again overnight for three Thompson School District Graduations on Saturday, May 26 beginning at 8 a.m. The fourth venue conversion came after the graduations on Saturday, to set the arena back up for Game 2 of the Kelly Cup Finals on Sunday night. The fifth event conversion followed soon after to have the arena set up for Cirque du Soleil to start their event load-in on Monday, May 28, to set up for seven shows of Corteo by Cirque du Soleil May 31-June 3.
"Our goal in managing the facility for Larimer County is to maintain activity on a near daily basis through a diverse set of events for the entire community, and this stretch demonstrates our team's efforts to doing just that while ensuring we transform events into experiences for our guests," said Spectra's Keller Taylor, District General Manager.
By the Numbers:
39,517: Concert and show fans, hockey fans, and graduation guests entertained at Budweiser Events Center from Tuesday, May 22 to Sunday, June 3
4,076: Number of staff hours needed to complete all the changeovers and work the events
2,134: Hot dogs eaten
1,690: Pizza slices eaten
2,060: Dippin' Dots items sold
469,732: ounces of beer and soda consumed