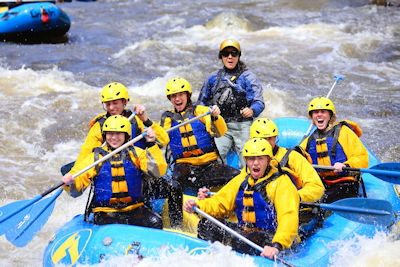 Gary Wockner, Save The Poudre: Poudre Waterkeeper
Fort Collins: Toyota USA, the Waterkeeper Alliance, and Save The Poudre are joining together on June 22nd and 23rd to celebrate the 50th anniversary of the U.S. Wild and Scenic Rivers Act with a SPLASH event. The celebration will be on the Cache la Poudre River, the ONLY Wild and Scenic River in the state of Colorado designated by an Act of Congress.
The celebration will feature:
June 22: Photography presentation by renowned Colorado nature photographer, John Fielder, featuring his photographs of beautiful rivers in Colorado, at the Lincoln Center in Fort Collins at 

7:00 pm

 (Information and tickets here).
"The Cache la Poudre is a beautiful river and we are lucky to have it here in northern Colorado," said Gary Wockner, Director of Save The Poudre. "Please join the celebration to enjoy this Wild and Scenic River, and if you can't join us, try to get out on the river as often as possible this summer."
"Beyond our own water conservation and watershed protection activities, through this partnership we aim to drive awareness in the community about the importance of protecting our water resources," said Kevin Butt, general manager of environmental sustainability, Toyota Motor North America. "The SPLASH series provides a fun way to contribute to water conservation projects and make a difference."
"Engaging people with their local waterways is a crucial part of securing drinkable, fishable, swimmable water," said Marc Yaggi, executive director of Waterkeeper Alliance. "The SPLASH Event Series strengthens connections between communities and waterways across the country. We thank Toyota for their commitment to the environment, clean water, and another great year of SPLASH."