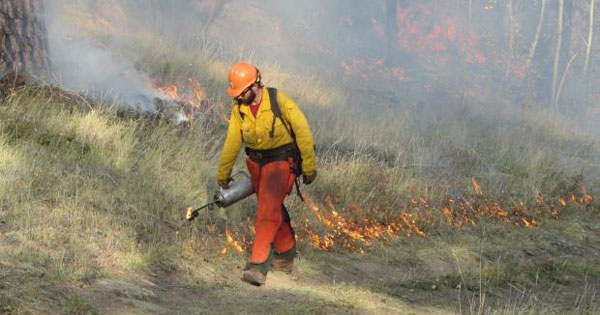 Reghan Cloudman
Public Affairs Specialist
FORT COLLINS, Colo. – Canyon Lake Ranger District fire managers are monitoring conditions in the Roosevelt National Forest to conduct the Red Feather Prescribed Burn as soon as Friday. If conditions allow, burning could continue over the weekend.
Support Northern Colorado Journalism
Show your support for North Forty News by helping us produce more content. It's a kind and simple gesture that will help us continue to bring more content to you.
BONUS - Donors get a link in their receipt to sign up for our once-per-week instant text messaging alert. Get your e-copy of North Forty News the moment it is released!
Click to Donate
The Red Feather Prescribed Burn is located north of Red Feather Lakes, Colo., east of the Crystal Lakes Subdivision. In 2017, 1,513 acres of the total 4,348-acre project was successfully burned. This March, firefighters targeted south-facing slopes and accomplished approximately 1,600 acres. Approximately 1,000 acres remain of this fuels reduction effort.
Appropriate conditions must be met before burning can take place. Fire managers are carefully monitoring these conditions, including a favorable weather forecast (temperature, wind, precipitation, etc.), fuel moisture, smoke dispersal and staffing. Weather is monitored throughout the burn and burning will be halted if conditions fall outside of the required conditions. Public and firefighter safety is always the number one priority in burning operations.
In ideal conditions, as many as 500 acres could be burned in one day. Work has already taken place within this project area to help ensure the burn stays within its identified perimeter.
To check the latest updates on when burning could occur, check our recorded incident information line at 970-498-1030 or follow us on Twitter @usfsclrd. To get added to the email notification list, send an email to rcloudman@fs.fed.us. Prescribed fire smoke may affect your health. For more information see https://www.colorado.gov/pacific/cdphe/wood-smoke-and-health.