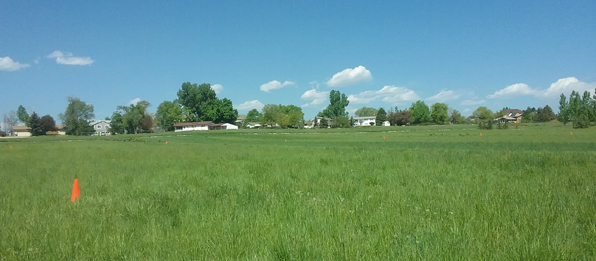 Theresa Rose
In front of a heavily packed courtroom, Larimer County Commissioners Lew Gaiter, Steve Johnson and Tom Donnelly announced that if the hearing was to continue past 10:00 pm, the final decision would be put off for two weeks. This decision was made in order to allow everyone their testimonial for and against the construction of a water pipeline that would seriously impact the residents of the Douglas Road corridor for approximately two years in order to transport water to the City of Thornton. The commissioners also explained that they couldn't be expected make their best decisions after a hearing that went on much longer.
The 48″ pipeline would draw water from Reservoir #4 at the end of Starlight Drive, a short road with a series of residences along the west side and a farm on the right that belongs to Richard Brauch. Reservoir #4 is supplied by the WSSC (the Water Storage and Supply) company, the rights to which were purchased by the City of Thornton in the 1980s after the failure of the Two Forks Dam project which would have pulled water from the South Platte. A pump station would be located on the Brauch property and the pipeline would run east under Douglas Road, east of I-25 and south to the City of Thornton.
Mark Koleber, director of the Thornton Water Project, made an hour-long presentation.  He explained that the water obtained from the Poudre river, purchased in the 80s and delivered to farmland in Ault and Pierce via the Larimer County Canal and the Jackson Ditch would be diverted to the reservoir and would take no more water from the Poudre than they already have been. He detailed the reasons for the choice of route and insisted that Reservoir #4 had the quality Thornton would need for drinking water and that takeout points further east would not deliver the same quality.
Representing the Douglas Road residents was John Booth, the attorney for the opposition group No Pipe Dream began his rebuttal by saying the Poudre was already in crisis, citing a recent article in the Coloradoan that the Poudre water levels were running nearly dry. He reminded the County Commissioners that they were there to represent the interests to Larimer County and that the pipeline offered no benefits to Larimer County. Others who testified were Penny Hillman of the No Pipe Dream group, Gina Jenette of Save the Poudre and Richard Brauch, owner of the property slated for the pump station.
No decisions could be reached by the 10 pm stop time and the commissioners agreed to postpone the decision deadline to July 23rd.
Did you like what you just read?
Show your support for Local Journalism by helping us do more of it. It's a kind and simple gesture that will help us continue to bring stories like this to you.
Click to Donate