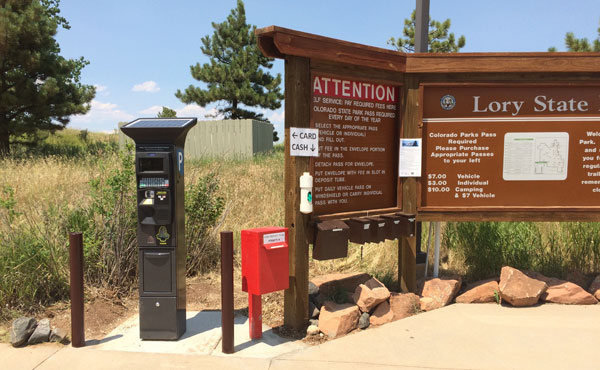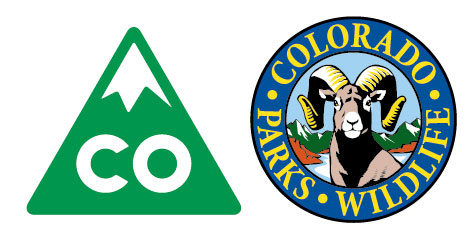 Travis Duncan, CPW Statewide
New self-service kiosks will make it more convenient for customers to purchase passes and other products at Colorado state parks
DENVER, Colo. – Colorado Parks and Wildlife has good news for park visitors who don't travel with much pocket money. CPW is rolling out new self-service kiosks at Colorado state parks that will augment or replace the existing system requiring customers to place their cash in envelopes when staff aren't available to sell park passes. The new machines take credit cards and are more weather-resistant than the envelope system, more convenient for customers who aren't carrying cash, and require less employee time to collect payment.
"Not a lot of people have exactly seven dollars [for a daily park pass] in their pockets," said CPW Statewide Business Operations Coordinator Kirk Teklits. "As far as customer service goes, being able to pay by credit card is definitely a desirable service option.
The kiosks can also sell annual state park passes. The machine prints a receipt the customer can bring in to a CPW office to redeem for their annual pass.
Teklits said 15 stations are currently installed at 9 parks and more will be coming later this summer.
"This helps our state parks become more modernized," Teklits said. "Most of the kiosks run on solar power, provide multiple sales channels to our customers, and help our staff with money collection and counting. It also helps our law enforcement officers quickly determine who has bought a pass and who hasn't."
Teklits said there have already been more than 800 daily passes and 55 annual passes sold through the kiosks since the first ones were installed June 13. The kiosks accept Visa, Mastercard and Discover cards.
The new kiosks are currently located at these state parks:
Boyd Lake
Castlewood Canyon
Chatfield
Lory
North Sterling
Highline
James M. Robb – Island Acres
Lake Pueblo
The kiosks will be installed at these locations later this summer:
Cherry Creek
Eleven Mile
Golden Gate
Staunton
Steamboat Lake
Cheyenne Mountain
Lathrop
Did you like what you just read?
Show your support for Local Journalism by helping us do more of it. It's a kind and simple gesture that will help us continue to bring stories like this to you.
Click to Donate