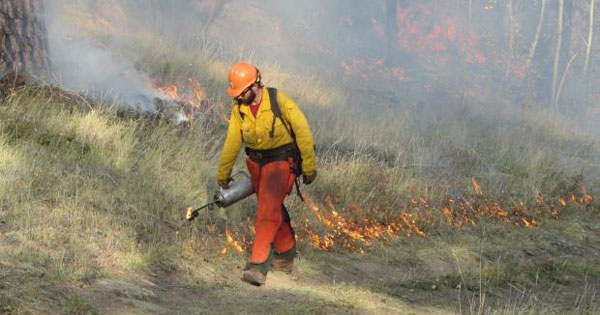 Reghan Cloudman
Public Affairs Specialist
With the snow falling, fire managers are monitoring conditions in the Roosevelt National Forest to conduct the Bighorn Sheep or the Pingree Hill Prescribed Burns as soon as next Tuesday.
Bighorn Sheep Prescribed Burn: Located on the north side of the Poudre Canyon near the Roaring Creek Trailhead, approximately eight miles west of Rustic.

The project is 636 acres, with 85% of these acres on National Forest System lands and the other 15% on Colorado Parks and Wildlife lands.
The objective of the burn is to improve wildlife habitat and reduce hazardous fuels.
Burning would take place when south facing slopes within the project area have minimal to no snow and north facing slopes have snow cover to contain the burn.
Detailed information: inciweb.nwcg.gov/incident/5676/

Pingree Hill Prescribed Burn: Located north of Highway 14, east of Rustic.
Appropriate conditions must be met before burning can take place, including a favorable weather forecast (temperature, wind, precipitation, etc.), fuel moisture, smoke dispersal and staffing. Weather is monitored throughout the burn and burning will be halted if conditions fall outside of the required conditions. Public and firefighter safety is always the number one priority in burning operations.
To check the latest updates on when burning could occur, check our recorded incident information line at 970-498-1030 or follow us on Twitter @usfsclrd. To get added to the email notification list, send an email to rcloudman@fs.fed.us. Prescribed fire smoke may affect your health. For more information see colorado.gov/pacific/cdphe/wood-smoke-and-health.
Did you like what you just read?
Show your support for Local Journalism by helping us do more of it. It's a kind and simple gesture that will help us continue to bring stories like this to you.
Click to Donate