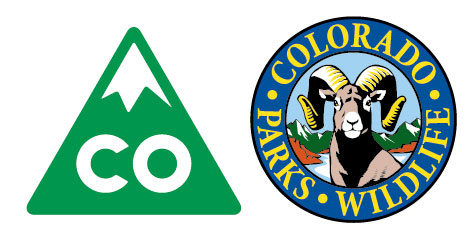 Rebecca Ferrell
CPW Statewide
RED FEATHER LAKES, Colo. – The U.S. Forest Service is temporarily closing the area around upper George Creek August 13-19 as Colorado Parks and Wildlife begins non-native fish removal activity in the area.
CPW is conducting the first phase of a project to renovate the fishery in the headwaters of George Creek, located on the Arapaho National Forest in Larimer County. The removal of non-native species is being done in preparation for the reintroduction of greenback cutthroat trout to the creek. The greenback cutthroat trout is Colorado's State Fish and is listed as "Threatened" under the Endangered Species Act.
George Creek and its tributary stream Cornelius Creek were the sites of a previous greenback cutthroat trout reintroduction in the early 1980s.  The stream has since been reinvaded by non-native brook trout and brown trout, as well the parasite that causes whirling disease, a deadly disease for trout.  For the re-establishment of greenbacks to succeed, all other fish currently in the stream population must be removed. This removal is done using rotenone, an EPA-approved organic compound used for decades to control fish populations. The stream must then be left fishless for several years for whirling disease to vacate the system.
As part of the reintroduction project, the U.S. Forest Service is temporarily closing the area around upper George Creek for public health and safety during the non-native fish removal activities. The closure includes forest system roads 188 from its junction with 219 southwest to the National Forest boundary.
Though this first phase of the George Creek reintroduction is only for the uppermost 4 miles of George Creek, 14 miles of stream will be re-stocked with greenbacks when all three project phases are completed, drastically improving the conservation status of the species.
For more information on greenback cutthroat recovery, visit: http://cpw.state.co.us/learn/Pages/ResearchGreenbackCutthroatTrout.aspx
Did you like what you just read?
Show your support for Local Journalism by helping us do more of it. It's a kind and simple gesture that will help us continue to bring stories like this to you.
Click to Donate