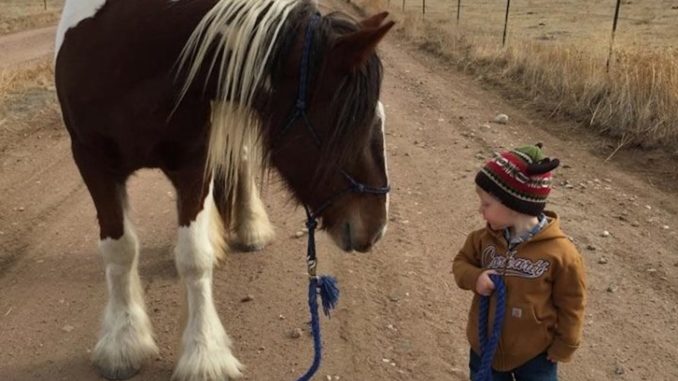 Sally Roth
sroth@northfortynews.com
If you liked My Little Pony as a kid, you'll love the real-life version, the Gypsy Vanner horse. No rainbow colors, but these beauties do have an extravagantly long mane and tail, and "feathered" legs with dense, fluffy hair that goes all the way to the ground. The breed can be any usual horse color (not pink or purple, though), including eye-catching spotted piebalds.
Beneath those showy looks are a strong, stocky body and a hard-working history. An old Irish breed used to pull the carts and wagons of their traveling Gypsy owners, the sturdy Gypsy Vanners, also known as Irish Cobs, are gentle horses with a calm, quiet disposition.
Support Northern Colorado Journalism
Show your support for North Forty News by helping us produce more content. It's a kind and simple gesture that will help us continue to bring more content to you.
BONUS - Donors get a link in their receipt to sign up for our once-per-week instant text messaging alert. Get your e-copy of North Forty News the moment it is released!
Click to Donate
But Gypsy Vanners are small horses, with many reaching only the size of a large pony. Because of their small size, "many people don't feel comfortable riding them," say Mike and Julie Hodziewich, who own Big Shoe Ranch north of Wellington, just south of Soapstone Prairie Natural Area.
Mike and Julie set out to fix that size problem by crossing Gypsy horses with larger Shires to create a type of horse they call the "Grand Vanner."
"The Shires have a wonderful disposition and are beautiful," says Julie, "but they are tall and hard to get on without a tailgate." A big horse was no problem for Mike, who rode "Klondike," a Shire gelding, for 17 years. "My husband wanted a horse that was big enough to carry him," remembers Julie. "I told him he got a horse big enough to carry the entire family!" Like others of his breed, Klondike was a gentle giant. "Mike rode him bareback with a halter for many years."
Mike and Julie formerly lived in Minnesota, but their roots in Northern Colorado run deep. "My family are natives of Wellington," Julie notes. When the family still lived in Minnesota, "We would bring our horses out to ride in the Rocky Mountains and visit my aunt and uncle in Wellington." Her family ties go back a long way. "My great-grandfather George Bear homesteaded the Roman Homestead that is on the Soapstone Prairie Natural Area." Those family connections "are what brought us back here in 2004."
When it was time to get another horse, "We talked about how it would be great to have a horse like Klondike, but a little shorter. We had seen the Gypsy horses and fallen in love with their dispositions. They were mini versions of Klondike. We talked about how it would be perfect to have a cross between the two breeds—shorter Shires or taller Gypsies. We knew if we took a quality Shire mare and breed it to a quality Gypsy stallion, we could not go wrong."
That was the inspiration for their breeding program at Big Shoe Ranch, which includes horses they imported from Ireland. "Order of importance, #1, disposition. Then conformation, and the bonus of wonderful color."
"The Shire/Gypsy crosses we have now are actually known as Drum horses," says Julie, "named after the job they do carrying the drums in the Queen of England's band. A Drum is a cross between a Shire and/or Clydesdale, and a Gypsy, being no more then 50% Gypsy."
Mike and Julie are happy to share their love of horses with others. "Anyone can come see our horses anytime! We enjoy talking about horses and telling people about our horses." Call or text (970) 889-1391 to arrange a time with Mike or Julie to come see the horses, including young foals born this spring.
For more about Big Shoe Ranch, visit their website at http://bigshoeranch.com/, or enjoy their Facebook page at https://facebook.com/pg/bigshoeranch/