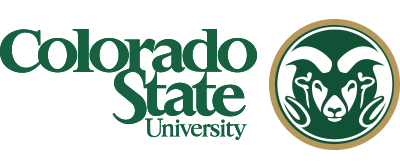 Jessica Lemmel
Colorado State University College of Ag Dean Ajay Menon receives Colorado Livestock Association's highest honor
Greeley, CO –  Last week, at the Colorado Livestock Association (CLA) Annual Meeting, Dean Ajay Menon was presented with the Top Choice Award. The Top Choice Award is given by CLA to those individuals who have demonstrated a commitment to improving livestock agriculture in Colorado. Past honorees have come from all walks of life, but the common denominator has been that they have all embodied a deep-rooted belief in the importance of agriculture to the future of this state, this country and the world.
"Although his background, is not one steeped with great knowledge in the field of livestock production he does possess and brings to the position a strong business sense," stated Bill Hammerich, Chief Executive Officer of CLA, "Dean Menon, is a man of courage and has not shied away from being an agent for change. CLA is honored to recognize him for his contributions to our land grant university and his efforts to make the College of Agricultural Sciences at Colorado State University world class."
Ajay Menon was appointed Dean of the College of Ag Sciences and the Director of the Colorado Ag Experiment Stations in July 2015. In this role, Dr. Menon is the chief administrative and academic officer with responsibility for leadership of the College's strategic vision, academic programs, budgets, and related activities including resident instruction, research, outreach, and international collaborations. Prior to this appointment, since July 2002 until June 2015, he served as the Dean of the College of Business at Colorado State. From November 2011 to August 2013, he was appointed by Gov. John Hickenlooper and served as the state's first Chief Innovation Officer. In that role, Dr. Menon helped establish and lead the Colorado Innovation Network (COIN) to develop an eco-system that cultivates entrepreneurial and innovative activities. In his role as Dean of the College of Business, Dr. Menon led the college's transformation to a high performing and entrepreneurial school within a large land-grant state university. Currently, he is involved in the transformation of the founding academic college within CSU towards a vision of unquestioned global preeminence.
Colorado Livestock Association Top Choice Award Recipients
F.M. "Pete" Peterson

Paul Andre

Tim Weigand

Cecil Hellbusch

George Spencer

Bart Nyberg

Chuck Muller

Frank Kemp

H.L. "Jay" Rowe

Joe Tennessen

Dr. Rue Jensen

Ben Houston

Tom Ferrell

C.W. "Bill" McMillan

Kenneth Monfort

Evan Slack

Champ Gross

W.D. Farr

Forrest Bassford

Fred Anderson

A.R. "Bud" Middaugh

Neil Skau

Lynn Heinze

Leroy Dalton

Willard Simms

Dr. John Matsushima

John Holtorf, Sr.

Carl Carlson

Carl "Bev" Bledsoe

Dr. Duane Flack

Chuck Sylvester

Roger Berglund

Hank Brown

Dr. Gary Smith

Dr. Daryl Tatum

Ray Powers

Dr. Daryl Tatum

Don Ament

Tom Camerlo

Dr. Jim Heird

Sen. Ben Nighthorse Campbell

Marshall Frasier

William "Bill" Wailes, Jr.

Terry Stokes

John Stulp

Dr. Temple Grandin

Phyllis Woodford

Dr. Tony Frank

Dr. William "Brock" Faulkner

Don Brown
Did you like what you just read?
Show your support for Local Journalism by helping us do more of it. It's a kind and simple gesture that will help us continue to bring stories like this to you.
Click to Donate