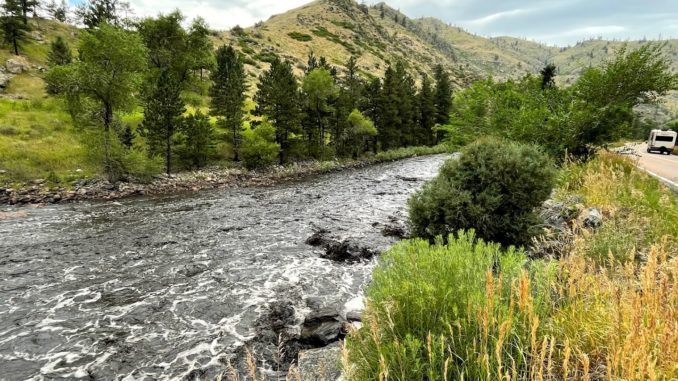 Support Northern Colorado Journalism
Show your support for North Forty News by helping us produce more content. It's a kind and simple gesture that will help us continue to bring more content to you.
Click to Donate
North Forty News Witnesses First-Hand the Flooding in Poudre Canyon
While delivering newspaper routes in Red Feather and Poudre Canyon, Publisher, Blaine Howerton, and Reporter Annie Lindgren, stopped at Glen Echo Resort. "Have you heard the bridge is out?," said a stopped traveler on Highway 14.
The traveler also said there was a mudslide on the highway and that it was blocked. Back on the road, Annie noticed a black, swollen, and raging Poudre River below Glen Echo resort. 
Just a mile down from Glen Echo Resort, the Poudre river appeared normal, as if the flood had disapeared. As Blaine and Annie traveled East on Highway 14 they observed kayakers in the river, folks out fishing, and campers in the riverside campgrounds. 
The Poudre River appeared to be flowing as normal. "It seems nothing is happening," said Blaine as he was driving. Annie watched the river closely, expecting the raging torrent from above to catch up, but it never did. 
Annie and Blaine then stopped at the Mishawaka. It was closed for the evening, but the door was open. The bar manager knew nothing of a flash flood upriver. "Usually, the black water will come down, and then clear out," he said. Nothing seemed to be happening at the Mishawaka either.
Not long after the last newspaper delivery, at Poudre Park, an Emergency Alert System message came over the radio alerting listeners in the area to quickly vacate and seek higher ground. The Mishawaka and Poudre Park locations were mentioned in the alert. Emergency vehicles, with lights flashing, raced up the canyon at a greater frequency.
By the return to Ted's Place, at the base of the canyon, State Patrol had the highway closed. Blaine, who lives in Poudre Canyon, couldn't go home. "When it's back open, you can go up. But now it's closed due to a bridge out and a mudslide," the trooper said. Then the evacuation orders came through.
At the Red Cross shelter at Cache La Poudre High School, where Blaine awaited news of the road re-opening, a volunteer said they were getting supplies to open the shelter. "As soon as our shipment arrives, we will open the triage," the volunteer said.
By morning, the ash had washed down the Poudre River, turning the water mostly black. Highway 14 opened to the public from Ted's Place but remained closed at Rustic.
The Larimer County Sheriff reported one person dead and two people missing. The Sheriff reported the closure of the Poudre River and mentioned the search operation will continue throughout Wednesday.
The National Weather Service issued a Flash Flood Warning, including Fort Collins and Poudre Canyon. Residents were keeping a watchful eye while rain began to fall again in the Cameron Peak Burn area. There is no cell service in the canyon, making it harder to alert those in the flood's path.
Further updates will be available as North Forty News gets them. This post will be updated below.
---
Poudre Canyon Flood 2021 Update
Thursday, July 22, 2021 9:02 AM MDT
Emergency crews will be conducting search operations in the canyon again today to locate three missing adults. Hwy 14 is open for general traffic, but the river and most camp grounds along it are closed. Work crews will be clearing debris and repairing infrastructure. Please drive carefully in the area and help keep responders safe!
---
From the Larimer County Sheriff on 7/21/2021 at 4:54 pm:
Crews recovered the body of the deceased adult female and worked to locate the two missing adult males. Deputies identified another adult female who is missing. Search operations will resume tomorrow. The Coroner's Office will identify the deceased, along with the cause and manner of death. 
Damage assessments are ongoing. 
Highway 14 has been opened for traffic, but the river remains ordered closed until further notice. We will continue to assess the conditions of the river to evaluate the necessity of the closure order and will open it as soon as it is safe to do so. 
As of 5 pm, the Joint Information Center will be closed with no plan to reopen unless the situation changes. Follow @larimersheriff on Twitter and Facebook for updates, sign up for text notifications by sending LCEVAC or FLOOD2021 to 888777, and visit https://nocoalert.org for the most current emergency information in Larimer County.
---
Larimer County Flood Update 07-21-2021 16:01:08
---
Larimer County Weather Update 07-21-2021 14:00:38
Wednesday, July 21, 2021 2:00 PM MDT
THE NATIONAL WEATHER SERVICE IN DENVER HAS ISSUED A * FLASH FLOOD WARNING FOR. CENTRAL LARIMER COUNTY UNTIL 4:30PM MDT. THUNDERSTORMS PRODUCING HEAVY RAIN ACROSS THE CAMERON PEAK BURNED AREA. FLASH FLOODING IS ONGOING OR EXPECTED TO BEGIN SHORTLY. * SOME LOCATIONS THAT WILL EXPERIENCE FLASH FLOODING INCLUDE… WESTERN FORT COLLINS, PENNOCK PASS, STOVE PRAIRIE, GLEN HAVEN, BUCKHORN MOUNTAIN, DRAKE, PINGREE PARK, RUSTIC, MASONVILLE AND HORSETOOTH MOUNTAIN. THIS INCLUDES THE FOLLOWING ADDITIONAL LOCATIONS… BOX PRAIRIE, UPPER BUCKHORN ALONG COUNTY ROAD 44H, MOONDANCE WAY, STRINGTOWN GULCH, BIG BEAR, LOWER BUCKHORN ON COUNTY ROAD 27 ABOVE MASONVILLE, CRYSTAL MOUNTAIN, POUDRE SPRINGS, MONUMENT GULCH, JACKS GULCH, UPPER PINGREE PARK ROAD, LOWER PINGREE PARK ROAD, SKY RANCH, GULCHES ALONG HIGHWAY 14 NEAR AND ABOVE RUSTIC, RISING WATER AND LARGE DEBRIS IN THE POUDRE RIVER, PINGREE HILL, GOODELL CORNER, THE RETREAT AND STORM MOUNTAIN.
---
Update from Larimer County Sheriff on 7/21 at 1:02 pm:
Subject: Poudre River Closure 
Effective immediately, the Poudre River is being closed for all use by order of the Sheriff. This restriction is in place from the Fish Hatchery to the mouth of the canyon.  The "Use Restrictions" come under the authority of CRS 33-13-11 and Colorado Parks and Wildlife  Rule #217.  This restriction applies to all watercraft craft and the restrictions are being imposed in response to disaster relief and debris removal relating to the flooding and mudslides into the Poudre River near the  Black Hollow Road bridge that occurred on July 20. We are actively working to recover one victim from the river and searching for at least two others. Under the direction of Larimer County Emergency  Management, engineering crews will be assessing the structural integrity of bridges below the slide area as a tremendous amount of debris (trees, mud, rocks, and structures) has been washed into the river and we do not know what hazards exist currently and may arise as water continues to flow. We also have forecasts for more potential flooding in the coming days.  We anticipate these restrictions will likely last through the weekend. We will assess and adjust as conditions warrant. 
---
Update from Larimer county:
Larimer County Flood Update 07-21-2021 10:45:08
The National Weather Service has issued a Flash Flood Watch for Larimer County from noon – 8 pm MDT. Heavy rain possible in the Cameron Peak and East Troublesome burn scars. Excessive runoff from heavy rain may cause flash flooding of creeks and streams, roads and roadside culverts. Use extreme caution. Due to flooding and debris flows in the Poudre Canyon, Forest Service campgrounds along Highway 14 will be closed today.
---
Update from Poudre Valley REA Social Media on 7/21 at 7:45 am:
Outage update: Crews were able to restore power to around 30 members last night. There are currently 101 members without power. For those members, we are expecting extended outages that could last multiple days due to the damage in the area. Our team is working with emergency personnel this morning to assess the damage and determine access points to continue work in the Poudre Canyon. We will continue to provide updates as we are able.
---
Update from Larimer County Sheriff on 7/21 at 10:30 am:
On Tuesday, 7/20/2021, at approximately 4:45 p.m., the Larimer County Sheriff's Office received reports of flooding in the Poudre Canyon above Rustic. At approximately 6 p.m. a mudslide occurred near Black Hollow Road and sent a large amount of debris into the canyon, destroying at least five structures and damaging the roadway. Emergency crews were in the canyon and alerted residents and visitors to the approaching danger.  One adult female was located deceased in the flood, and two other adults are confirmed missing. As search operations continue today, emergency crews will be searching on foot and with drones. Divers will be attempting to recover the body of the deceased female and a passenger vehicle that is in the river.  Resources active in the canyon today include Larimer County Search and Rescue, Larimer County  Dive Rescue, Colorado DFPC, USFS, and the Colorado National Guard.  Larimer County Damage Assessment Teams will begin surveying damage today.  
---
Phone alert from Larimer County at 10:34 pm "You have an emergency message from your local law-enforcement fire department or emergency management agency this is a Laura County sheriffs office with an evacuation update officials have lifted the mandatory evacuation along Highway 14 from rustic east to Ted's place residents living in that area may return to their homes please know that Highway 14 is not open to the general public which means law-enforcement manning the roadblock will need to make contact with each vehicle coming through there is a concern for the weather pattern expected tomorrow we ask that residents remain alert to the weather conditions in the event additional evacuations may be necessary thank you for your cooperation during this event…"
---
From Poudre Valley REA Social Media