Support Northern Colorado Journalism
Show your support for North Forty News by helping us produce more content. It's a kind and simple gesture that will help us continue to bring more content to you.
Click to Donate
When people think of Colorado and geologic hazards, they tend to think of landslides, avalanches and rockfalls. But in some regions of Colorado there's another potential geologic condition where geologic hazards such as ground depressions and sinkholes occur that can create havoc for homes, commercial buildings, and infrastructure. Such hazards are also potentially dangerous for people.
"Specific areas of Colorado are underlain by near-surface bedrock composed of evaporite minerals, including rock salt," said Jonathan White, senior engineering geologist for the Colorado Geological Survey. "These minerals easily dissolve in the presence of water, creating underground caverns. As these underground voids propagate to the surface, ground depressions can occur, and, though it is rare, spontaneous sinkholes do form."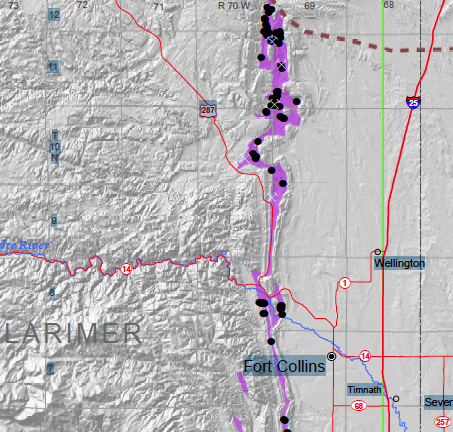 The Colorado Geological Survey has been collecting information on this hazard as well as inventorying locations of sinkholes in Colorado and announced today the release of a free on-line map titled "Colorado and Evaporite Karst Subsidence Hazards."
"While only a small percentage of Colorado's area is underlain by near-surface evaporite bedrock, it includes higher density population areas in the Eagle and Roaring Fork River valley corridors," said Vince Matthews, director of the Colorado Geological Survey. "All property owners within the map boundaries should be cognizant of the potential hazards."
The accompanying 28-page report included with the map discusses the specific regions of Colorado where near-surface evaporite bedrock occurs, the engineering and environmental concerns of the potential geologic hazards, and suggested land-use planning within the map boundaries.
Copies of the "Colorado Map of Potential Evaporite Dissolution and Evaporite Karst Subsidence Hazards" are available as a free on-line download from the CGS website at geosurvey.state.co.us/PUBS/ONLINE/Pages/default.aspx.
This on-line publication includes a statewide map in Adobe PDF format at a plate size of 54″ by 42″ size (1:500,000 scale), an illustrated 28-page map discussion report in Adobe PDF format, and downloadable zip file of GIS digital data prepared as ESRI shapefiles (.shp).