In the wake of the Connecticut school shootings, the casual driver passing Red Feather Lakes Elementary School on Creedmore Lakes Road would notice that everything looked normal, except for the knot of people on the road, arms around shoulders and heads bowed in prayer.
The school bus is disgorging its load of students, some raucous, some sleepy-eyed. Harried mothers rush to meet the timeline slip their tires as they come off the pavement. The morning sun still paints Middle Bald Mountain with golden highlights.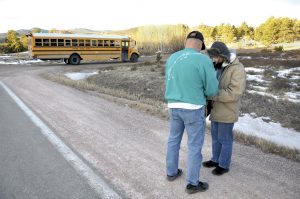 As the bus backs into its parking place, it reveals a Sheriff's vehicle. As the doors close, Deputy Earl Fawcett walks back to his vehicle. Nothing unusual here, says Fawcett, "just a routine, random patrol."
Once the students are inside, the doors are locked. Visitors must ring a buzzer and be recognized before entry is allowed. Not unusual; the school has been doing this for years. The students might even have a fire drill, which happens monthly, or even a lock-down drill, which happens routinely twice a year.
But the prayer group is new.
As the nation debates gun control, they are countering gun violence with the most potent force they know; the power of prayer. The group is composed of members of the local Morning Star Community Church, often led by Senior Pastor Doug Burdette.
They have been praying there every morning since the school shootings, and intend to be there every day until the end of the school year.
"We need to pray for the children," Burdette said. "It is the protection they need."
Burnett points out that many of the children on the bus are members of the church's Kids Club, "and wave and smile at us." And, he adds, "most parents were thankful" for their presence.
Morning Star congregants are not alone in their use of prayer. According to the U.S. Religious Landscape Survey, conducted by the Pew Research Center's Forum on Religion & Public Life in 2007, nearly 60 percent of adults in the U.S. pray at least once a day.
When asked why the group needed to pray at the school, Burdette noted being there allows people "to see you're exercising your faith."
At first, they met in the parking lot, close to the children. But Matt Marietta, principal of the mountain schools, including Stove Prairie, Livermore and Red Feather Lakes, asked them to move off school grounds.
"We didn't want any disruption, especially with traffic flow," Marietta said. "Our goal to maintain a sense of normalcy" for the students.
Since the Connecticut shootings, the only new thing at the mountain schools, Marietta said, is "a heightened sense of awareness."
Did you like what you just read?
Show your support for Local Journalism by helping us do more of it. It's a kind and simple gesture that will help us continue to bring stories like this to you.
Click to Donate