By Libby James
North Forty News
Before J. Evan Roberts died in 2002, he asked his son, D.L. Roberts, to do two things: take care of his wife Catherine (D.L.'s stepmother), and make sure the 17,000-acre Roberts Ranch that had been in the family since 1873 remained whole and agricultural.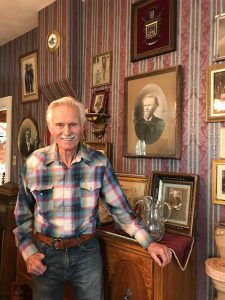 The property spans verdant pastures, stunning rock formations, forested areas and sparkling streams between Owl Canyon and Virginia Dale and is one of the oldest and largest ranches in the state. It has been in continuous operation by the same family for 144 years.
Today, D.L., now 84, and his son, Benjamin Lee Sterling Roberts, and Benjamin's fiancée, Remy, live a mile north of Livermore in the original homestead on the southeast corner of the property. They are surrounded by memorabilia passed down by the generations. A narrow rutted dirt road leads up to the ranch house that nestles among trees with a marvelous view of the red rock cliff across the way.
D.L. is passionate about history and has a story to tell about each treasured piece displayed in his home. It has been modernized and added onto over the years but still has the original staircase built by his great grandfather, R.O. Roberts, and an interior wall of rough-hewn logs, hauled down from Livermore Mountain.
R.O. Roberts, a native New Yorker, brought his young family of five first to Chicago and then to Greeley in search of the "sunshine and sparkling waters" he'd been promised. He didn't find what he was looking for in eastern Colorado, but when he came to the Livermore area, he knew he'd found the spot.
He homesteaded 160 acres and built and operated the Forks Hotel at the corner of US 287 and County Road 74E, the Red Feather Lakes Road. After seven years he sold the hotel, now a popular restaurant, and along with sons George and Ernest became a full-time cattleman. Over time he was able to buy pieces of land until he had enough to support 1,000 head of cattle.
D.L. has been in love with the ranch since he was a small boy. He lived there until his parents divorced when he was four, then moved to Denver with his mother for a time. He spent summers at the ranch during those years. When he was 10 years old, his father remarried and D.L. moved back to the ranch permanently.
As a young man, D.L. sought his fortune as a singer and actor in New York and Los Angeles, but he held the ranch in his heart, returning a couple of times in the sixties and early seventies to work with his father. "We were good friends," D.L. says, "but we didn't work so well together." After a couple of years, D.L. returned to New York where he recorded a Christmas song, "There Won't Be Any Snow," which sold 350,000 copies in a single holiday season and provided an opportunity for him to do a screen test in Los Angeles. "The screen test went nowhere, but I met my wife, Penny, while I was there," he said.
After a successful stint in the real estate business in California, the ranch called to him once again. He and Penny raised Ben and his brother, Burke, on the ranch. They built a significant addition to the place to house their family.
Burke is now in the film business in California, still committed to the welfare of the ranch. Ben and his father have been working for years to preserve the property by turning it into a non-profit charitable trust, a move that would avoid estate taxes that would likely amount to half the value of the land. Currently the entire ranch is part of a conservation easement that assures that it will remain agricultural.
From the time his father died until 2012, D.L. looked out for Catherine, his stepmother, as his father had asked him. "We were good friends and we agreed on the importance of preserving the ranch," he said. "In 2012, Catherine had a serious fall resulting in a head injury, and she was never the same after that."
Before she died at age 95 in December 2015, Catherine hired a "personal representative" who worked with her to create conservation easements on hte property overseen by Larimer County.
Did you like what you just read?
Show your support for Local Journalism by helping us do more of it. It's a kind and simple gesture that will help us continue to bring stories like this to you.
Click to Donate