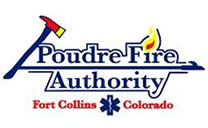 A Poudre Fire Authority investigation found that a fatal Oct. 21 fire in a Fort Collins condominium was accidental.
Investigators, following a time-intensive and scientific process, determined the fire started in the kitchen, where a pot of cooking oil caught fire.
One man, identified this week by the Larimer County Coroner's Office, died in the fire. He was the sole occupant of the home at the time of the fire and was found in a bedroom. One other person lived in the unit at the Cammire Condominiums Apartments, 2115 W. Plum St. PFA doesn't identify people involved in emergency incidents out of respect for their privacy.
"Our hearts go out to the man's family and friends during this difficult time. A loss such as this, or any other, is unfathomable," spokeswoman Madeline Noblett said. "Tragic events such as these serve as reminders of the ways people can prepare for emergencies and live as fire-safe as possible."
While it was difficult for investigators to determine exactly what transpired early that morning, it is clear that cooking fires remain among the most common fires to which PFA firefighters respond. These fires are preventable if people are mindful of the following general safety tips from the National Fire Protection Association:
– Keep anything that can burn – think oven mitts, wooden utensils, towels or curtains – away from the stovetop.
– Check your baking, simmering, roasting or boiling food often. Use a timer, and never leave home while something is cooking. If you leave, turn off the stovetop or oven.
– If you are sleepy or have consumed alcohol, don't use the oven, stovetop or microwave (people are commonly burned when removing hot dishes from microwaves).
– If you have a grease fire, don't try to extinguish it with water. Smother the flames by sliding a lid over the pan and turning off the burner. Leave the pan covered until it completely cools.
– For an oven fire, turn the heat off and keep the door closed.
– Never put frozen food in hot oil, as it can react violently. This is particularly important to note as Thanksgiving approaches and people make plans to fry turkeys.
Did you like what you just read?
Show your support for Local Journalism by helping us do more of it. It's a kind and simple gesture that will help us continue to bring stories like this to you.
Click to Donate