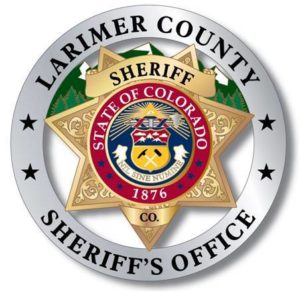 Deputy Paige Robertson, Public Information Officer
Larimer County Sheriff's Office Sergeant Aaron Smoyer was recognized by the Professional Rodeo Cowboys Association (PRCA) on Sunday, August 5, during the Military and First Responder Appreciation night at the Larimer County Fair. Smoyer was presented with the "Local Military and First Responder Hero" award. He was nominated by Sheriff's Office staff members for his outstanding years of service both in the military and law enforcement.
During the presentation of the award Smoyer was recognized for his 32 years of service. The PRCA stated, "we would like to recognize a man who believes in the ideals held forth in our Constitution, a man who has spent his life giving back to the people of this great country through service, a man who not only served our country once, but has done so three times."
Before entering into the civilian world, Smoyer served for eight years as a member of the United States Marine Corps. During his tenure, he received a top secret clearance and supervised more than 20 Marines at a time in combat during Desert Shield and Desert Storm. Smoyer received the Combat Action Ribbon and an honorable discharge after attaining the rank of Sergeant.
Sergeant Smoyer is currently assigned to the Professional Standards Unit of the Larimer County Sheriff's Office. "He has faithfully served our community for the last 14 years. He has done so with the highest level of integrity and professionalism," according to PRCA. During his time with LCSO, Smoyer has trained countless new deputies as a Field Training Officer and held positions on the Gang Unit and Special Emergency Response Team. Prior to serving in Larimer County, Smoyer served the community of Orange County, California for 10 years as a deputy.
"The Sheriff's Office employs many deputies who have served in the armed forces prior to pinning on the badge. We find military service to be complimentary to serving as a deputy sheriff. Sgt. Smoyer is a great example of what that spirit of service looks like and we are proud to see him recognized by the Larimer County Fair and Rodeo and the PRCA." – Sheriff Justin Smith
Did you like what you just read?
Show your support for Local Journalism by helping us do more of it. It's a kind and simple gesture that will help us continue to bring stories like this to you.
Click to Donate