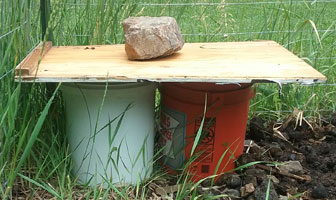 Theresa Rose
Gardening can be intensely scientific. Experienced enthusiasts will debate for hours as to the benefits of Happy Frog over Garden•Cote 6, Yield booster, All-Purpose or Specialized, Triple Super Phosophate, Perlite or Vermiculite. The less educated gardener is just as likely to throw up his or her hands and reach for the Miracle Grow.
However, there is always the option to go back to, the same old manure tea used for centuries before anyone invented commercial fertilizers. Most of us will buy several bags of our favorite manufactured product, organic or not, sheep, cow, horse or chicken, and work it into the soil at the beginning of the season. This is a good practice but not usually enough for the entire season. However, sometimes the old-fashioned method is still one of the best. Manure tea remains a favorite.
Recommended by Martha Stewart in her book: Martha Stewart Gardening, Month by Month, she liberally douses her veggies and flowers with her tea, achieving spectacular results. She uses the term, "well-rotted" meaning that the manure from whatever source has been allowed to dry in the sun long enough to reduce the odor and the possibility of e-coli. Beyond that, all you need is water and a 5-gallon bucket to make your fertilizer.
It gets complicated from here and different web sites have different recipes and recommendations. All recommend horse, cow, goat, sheep and chicken to be the preferred sources. However ratios of manure to water vary from site to site, some say the ratio is 5 of water to 1 of manure. Another uses a 5-gallon bucket method, filling the bucket 2/3 full of water and adding enough manure to reach the top. Some recommend steeping the tea overnight, others two weeks. Some like a "tea bag" method where the manure is tied up in a cheesecloth or other cloth and steeped in the bucket that way. The tea should be strained though a cloth or a screen into a separate container: quart or gallon jars, plastic milk jugs, and gallon buckets all work well. It is convenient to have a covered bucket in the garden to be dipped into as needed. It is universally agreed that the tea should be diluted to the color of weak tea, mild enough to use once a week.
There's a danger of adding too much nitrogen and producing a plant with beautiful green foliage and no fruit. Plants such as carrots, radishes, turnips, potatoes, and beets need more potassium than nitrogen and should not be fed with manure tea. Spent manure doesn't have to go to waste and should be worked into the compost pile.
For those who simply can't "do it themselves" there's a local product available at Gaia's Farm and Gardens just west of Vern's in LaPorte. Kathleen Miller writes the Gaia Grows column in the monthly edition of the North Forty News and who operates a CSA. She loves her animals and has a group of llamas and an alpaca in addition to her menagerie including chickens, peacocks, and a dog. She noticed that wherever there had been llama scat, there was now a tuft of green grass. Her Green Llama tea is sold for $5.00 for two liters and $10.00 per gallon and judging from her garden, is especially effective. She can be contacted at (970) 817-2186 or visit the website at: gaiascsa.com
Did you like what you just read?
Show your support for Local Journalism by helping us do more of it. It's a kind and simple gesture that will help us continue to bring stories like this to you.
Click to Donate