David Moore, Public Information Officer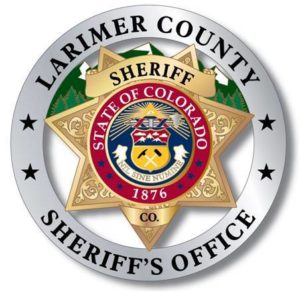 The Larimer County Sheriff's Office has seen its fair share of junior deputies, but yesterday marked the first time one had their own patrol car. Dozens of friends, family, and law enforcement gathered to witness three-and-a-half-year-old Wyatt Gentry receive a special edition LCSO Power Wheels patrol vehicle.
Wyatt is the son of LCSO Deputy Billy Gentry and his wife, Michelle. In 2017, Wyatt developed a cancerous brain tumor that significantly reduced his vision. Colorado State Patrol Trooper Jerry Sharp was inspired to help the Gentry family and wanted to have a Power Wheels vehicle decorated as an LCSO patrol car – just like Wyatt's daddy's car.
Trooper Sharp set up a GoFundMe page for donations to make this happen. He worked with the great folks at Affordable Automotive Repair of Fort Collins, Action Signs of Fort Collins, and Recreational Electrical of Loveland to turn a Power Wheels Dodge Charger into a patrol car with LCSO graphics, lights, siren, push bumper, and PA system. These gracious vendors donated much of their time, expertise, and equipment which allowed Trooper Sharp to present the Gentry family with a check from the extra GoFundMe money to help with their medical expenses.
Needless to say, Wyatt was thrilled to receive his patrol car and had a blast riding it through the halls at LCSO headquarters and around the parking lot. Deputy Gentry reported that Wyatt drove the car for at least three hours more after getting home it was the first thing he wanted to do this morning.
The LCSO family would like to thank Trooper Sharp and all those who made this special event a reality.
Please visit our website for lots of great pictures and video – bit.ly/2qrQDNw
Did you like what you just read?
Show your support for Local Journalism by helping us do more of it. It's a kind and simple gesture that will help us continue to bring stories like this to you.
Click to Donate