by Andy Boian, dovetail solutions
The Woodward Inc. relocation signifies continued growth and evolution for Northern Colorado Region
Support Northern Colorado Journalism
Show your support for North Forty News by helping us produce more content. It's a kind and simple gesture that will help us continue to bring more content to you.
BONUS - Donors get a link in their receipt to sign up for our once-per-week instant text messaging alert. Get your e-copy of North Forty News the moment it is released!
Click to Donate
FORT COLLINS, COLO. – Woodward Inc. (NASDAQ: WWD), an independent designer, manufacturer, and service provider of control solutions for the aerospace and industrial markets, recently announced plans to move its Duarte, California, operations to Fort Collins, Colorado, bringing with it 300 new jobs. The Duarte facility, which manufactures thrust reverser actuation systems (TRAS), is part of the company's Airframe Systems business group.
The largest private employer for Fort Collins, Woodward's decision to return to their former Colorado headquarter facilities comes as a strategic cost decision in light of Colorado's broadening appeal as a more cost-efficient and labor-proficient place to operate a business. The relocation will be to the newly renovated 250,000sf headquarters and manufacturing facility.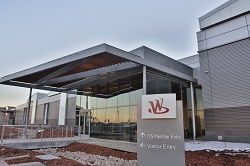 "A substantial commitment to build operations in Northern Colorado was made for our new headquarters and manufacturing plant in 2016," said Tom Gendron, CEO of Woodward, Inc. "Upon analysis of our former facility and evaluation of overall operations, it made sense to move our Duarte, California aerospace operation here. Considering almost every process, the Northern Colorado site is more efficient. We also have an outstanding partnership with AIMS Community College, allowing Woodward to hire and train a workforce with the degree of agility we need to meet production demands."
Currently, the Duarte facility is unable to support the significant amount of new business recently awarded, including a major TRAS contract with Airbus, while maintaining the highest quality and customer service levels. The state of Colorado also provided incentives for Woodward to add 300 jobs to Colorado in 2016.
"Colorado is a strong hub for the aerospace industry and we love seeing it spread to all parts of the state," said Colorado Governor John Hickenlooper. "We welcome Woodward's new jobs and transfers as this decision strengthens Northern Colorado's economy and supports its drive for innovation and discovery in what is now one of the state's leading industries."
The 300 new jobs will range across the board from key managers, to engineers, to product managers and more. Woodward will retain a few key employees from Duarte, but otherwise will be duplicating their California facility in Fort Collins.
"When we walked through the analysis with Woodward, we evaluated labor and real estate costs, taxation, workforce housing and energy costs in Northern Colorado, and concluded that the former is a great alternative," said Andy Montgomery, CEO of Northern Colorado Economic Alliance. "I think this equation becomes even more compelling with the passage of the 2018 tax reform bill and California's very high personal income tax, which is no longer deductible on federal returns."
Woodward Inc. will work closely with the International Union, United Automobile, Aerospace and Agricultural Implement Workers of America ("UAW"), to start the transition process, estimated to begin in August 2018 and span 24-36 months.
About Woodward, Inc.
Woodward is an independent designer, manufacturer, and service provider of control system solutions and components for the aerospace and industrial markets. The company's innovative fluid, combustion, electrical, and motion control systems help customers offer cleaner, more reliable, and more efficient equipment. Our customers include leading original equipment manufacturers and end users of their products. Woodward is a global company headquartered in Fort Collins, Colorado, USA. Visit our website at www.woodward.com, and connect with us at www.facebook.com/woodwardinc.