In April we asked North Forty News readers to submit photos and stories about their favorite truck. Pokie Parmidge's entry for "Tuck the truck" is the winner. Pokie gets:
• $25 certificate from Diesel Services for any parts and/or service.
• $20 gift certificate from Gilsdorf Garage in Fort Collins.
• Two free dinners at T-Bar Inn in Wellington.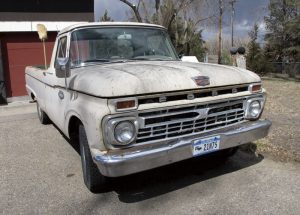 Support Northern Colorado Journalism
Show your support for North Forty News by helping us produce more content. It's a kind and simple gesture that will help us continue to bring more content to you.
BONUS - Donors get a link in their receipt to sign up for our once-per-week instant text messaging alert. Get your e-copy of North Forty News the moment it is released!
Click to Donate
Tuck the truck
Back when we first moved to Northern Colorado in 1984, we bought an old, small house that needed some love and attention. To give this necessary love and attention, we needed a pick-up to use as our everything vehicle. That's when we got Tuck.
Tuck was kind of old (1966 Ford F100) and had a lot of miles (around 300,000 miles) but ran good and seemed to drive okay as well. Tuck saw us through the building of a large garage, the remodel and addition of a large Victorian house and then the remodel and resurrection of yet another house. Tuck then spent a couple of years parked while we went to Europe on assignment for my wife's work.
When we got back from Europe, there was Tuck. I'm sure he was just as happy to see us back home as we were to see him. Not long after we were home, I put a new engine in Tuck as well as all new brakes and shocks. What a pleasure he was to drive. Our brand-new daughter showed her love for Tuck by giving him his name "Tuck," which was her saying "truck" the best she could.
Tuck saw a few more moves before he moved us to the Fort Collins area, dragged a few trailers and made a pile of dump runs. We still have Tuck but now he needs our help to get him well again. He still runs as well as he ever has but cancer has eaten his floor boards and weakened his fender mounts. We mostly use him for short runs now but come this summer, it's metal-therapy (that's a form of chemotherapy for old trucks) for Tuck.
Tuck may not be pretty but he's ours and we love him.
Pokie Parmidge

Ugly but still running
My ugly truck is my 1971 Scout II.
I bought it in 1977 and it had 198,000 miles or so then, the odometer was already bad. I've used it for more than 100,000 miles so far. It has been used for everything from elk hunting to irrigation. The original owner told me it was winched down an 80 degree cliff when it still had its own winch.
On one hunting trip to the west slope, 4 adults slept in it overnight and brought back an elk and a deer plus all our gear!
It pulls a trailer when feeding cattle all winter long and carries irrigation pipe on side racks spring and fall.
It's ugly but still running strong!
Marty Dubois
Wellington

Drop me here, dad
Mine is a 1966 V6 GMC 3/4 ton full-size pick-up. Bought it in 1978. It shows 42+K miles but at least 100K-200K on top of that. Yes, it has rust but it keeps on going. When my 29-year-old daughter was younger, she used to cry when I took her in the truck to school at CLP. She made me drop her off way before school so her friends wouldn't see her! I told her the GMC's in my will and it's to go to her.
Doug Prince
Bellvue

Snow truck
And you thought the GMC in last month's mystery photo had snow! 1963 Chevy 10, 1/2 ton longbox. Lives at the top of WCR 82E.
The Sinner Family
Livermore


Four states, 3 accidents
"Camel" is my 1980, six cylinder, half-ton Chevy pick-up. Three on the column, no radio, nothing fancy, and a boring "camel" color. I am the only owner he's ever had. Camel cost just $5,000. He was a deal because he was the one no one wanted.
My parents were trying to even up their financial contributions to the three of us. My siblings had had their college tuition paid. My passionate dream was to live on a homestead and raise goats, chickens, bees, herbs, vegetables and fruit. I needed a truck. It was not a future my parents would ever support, except they did buy the truck.
At that time, women did not drive pick-ups (except on farms) and I was stared at quite a bit. The first thing I did with Camel was leave Michigan with my daughter and waltz off to an Ohio beekeeping program for two years, another thing women did not do. Later on, I worked for a commercial beekeeper in Arizona, driving Camel along washed-out two-rut roads in the desert and working bees in 110- degree hell.
Since the year the "Camel" came into my life, I have lived out that dream of a small farm, although it was not at all like I had thought it would be.
There have been so many adventures I have had with this truck that I should write a book. Camel has lived in four states and has moved me four times. He has moved other people. He has carried many hives of bees, and animals – living and dead. We did landscape work for a number of years. Camel has hauled just about everything – soil, rock, manure, hay, wood, boxes and boxes of books, and trash. Been to the landfill at least a hundred times.
In the thirty-three years I have driven this truck I have had many close calls where I could have died. Camel has been in three accidents with nary a dent.
What were the mechanical issues? Heater didn't work for a long time. Pops out of reverse. Small parts have broken. The door doesn't close right. The window has been stuck open. Engine used to overheat. The left flank was neglected when they put on the anti-rust sealer at the factory. I figured it must have been a Friday and the assembly line just wanted to go home.
In October of 2011 we had a tree-breaker winter storm. Camel was parked under an old elm tree. Limbs came crashing down around him. As though protected by magic, he was totally fenced in, but unharmed.
Camel has been retired to farm vehicle status…no more highways. We are both growing old together and are kind of beat up.
Once I had a past-life regression. I was asked who I was in that lifetime. Answer: I lived in the Middle East and I was a "camel-driver." Ha! And I still am. One of the great pleasures of my life has been driving my Chevy pick-up. 256,336 miles.
Cynthia Manuel
Fort Collins