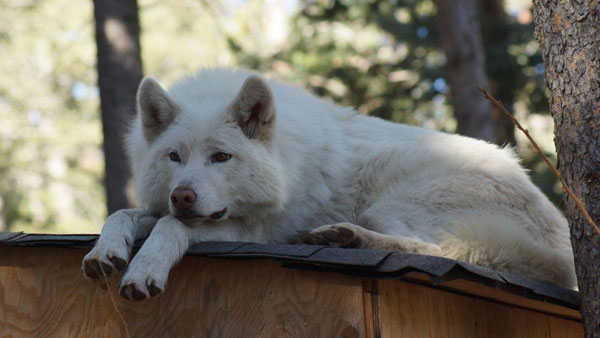 How much farther? How long until we get there? Where are we going anyway?
By Whei Howerton
the New SCENE Magazine
The inevitable car trip questions arose over and over, and over again. We were making our way from Fort Collins to Colorado Springs for a surprise weekend away with our kids. Destination: Great Wolf Lodge.
From the outside, the hotel was massive – 311 rooms massive. But it's what is attached to it that makes all the difference in the world. Massive slides that come out of a wing of the building and twist, before making their way back in. Yowzah. Our kids, two boys aged 9 and 5, barely made it through check-in.
Wolf ears on, Paw Passes in hand, we practically threw our belongings down on the beds of our family suite before heading right back out to check everything out. Be ready, there's a lot. The water park is the piece de resistance, but there's the arcade, ropes course, bowling, climbing wall, mini golf, lobby shows, characters, and MagiQuest (think custom magic wands that help you complete challenges planned like a scavenger hunt all over the resort). Like I said, a lot.
Over the course of three days and two nights, we hit just about every inch of the place. Both boys got wrinkled more than I thought possible in the indoor water park. Needless to say, they absolutely loved it.
There are plenty of spots for kids of all ages. Towels are provided, and so are life preservers if you need them. Access to certain areas – like the truly enormous slides – is limited based on height, age, and ability to swim.
Our older son was able to try out almost all of the high-adrenaline features like the Wolf Tail, where the floor drops from beneath sending you plummeting 20 vertical feet into a 360-degree loop, or the Howlin' Tornado, with a four-seat raft that twists, hurls, and drops six-stories before splashdown, or Alberta Falls, a two-seater that sends you four-stories (this was the slide we could see on the outside of the resort) (this was the slide we could see on the outside of the resort), before plopping you into the pool. He spent HOURS going rounds.
Meantime, our little guy was just as happy climbing and sliding and shooting and getting dumped on by a giant bucket full of hundreds of gallons of water. The air was warm and the water plentiful. Two snack bars and adult beverages poolside, and we were on our way.
As for the rest of the resort, make sure to take a look at all of your food options. When the resort is busy, you'll want to make reservations at some of the more popular spots. We had a buffet style breakfast which offered more than enough options and so much food at the Loose Moose Family Kitchen. It was busy, busy! We preferred our meal at Barnwood, more. The restaurant offered a laid-back vibe and felt calmer and quieter. The Outpost, within the Adventure Park was a great spot to grab some pub grub and drinks.
Our visit to Great Wolf Lodge was a huge hit! Yes, they've asked since then, to go back. It's a fantastic indoor option in the dead of winter (or anytime for that matter).
Remember their goggles and get ready for some happy, pruned fingers and toes!
For more information on Great Wolf Resorts and its brands of indoor water park resorts, visit greatwolf.com
Great Wolf Lodge Hops Into Spring-A-Palooza
The popular annual celebration returns March 16 – April 28, 2019
Families staying at any Great Wolf Lodge between March 16 – April 28, 2019 are sure to have a pawesome time as the resort comes into full bloom with a collection of exclusive spring-inspired events such as bubble dance parties and a special character-led tea party.  Guests will "splish and splash" in the 84 degree waterpark and create memories that will last a lifetime.
Bubble Dance Party: This special Spring-a-Palooza event fills the Grand Lobby with cascading bubbles while Great Wolf Lodge's Ambassadors of Fun keep energy-levels high with a family-friendly dance party.
Spring-a-Palooza Story Time: Great Wolf Lodge's nightly Story Time takes on a spring theme with a new tale featuring the Great Wolf Lodge characters called "Natural Wonders." Kids are encouraged to wear their favorite jammies to the Grand Lobby for this event and will have the opportunity to meet one of the Great Wolf Lodge characters in person.
Jelly Bean Guessing Game: A gigantic jar filled to the brim with jelly bean candies sits in the Grand Lobby and guests are invited to enter a contest guessing how many delicious treats are within the jar. The guests closest to the correct number without going over will be entered for a chance to win a Great Wolf Lodge Gift Card.
Spring Themed Crafts: During Spring-a-Palooza, the resort's Ambassadors of Fun will host several spring-inspired craft making events for kids of all ages. Character-themed crafting projects include Oliver's Crazy About Bugs Jar, Violet's Springtime Noodle Doodle, Brinley's Don't Blow Away Kite and Wiley's Can You Spot It Binoculars.
Did you like what you just read?
Show your support for Local Journalism by helping us do more of it. It's a kind and simple gesture that will help us continue to bring stories like this to you.
Click to Donate